Published: October 15, 2022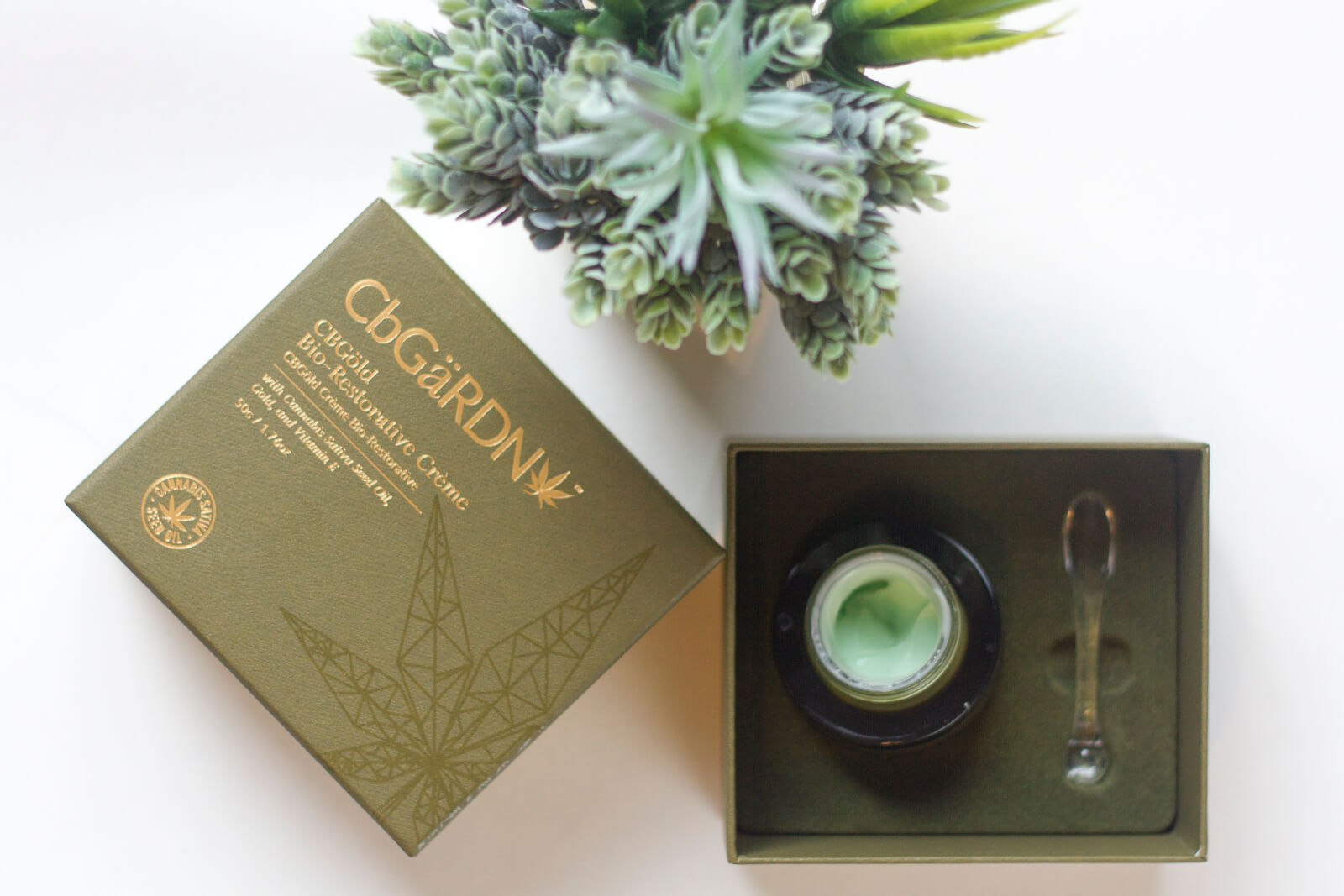 Daily use of moisturizers suited to your skin type can help you in more ways than you can imagine. Moisturizing creams are essential products in your skincare routine that keep your skin glowing all day long.
CBGärdN values the powers of the botanical extracts that nature has gifted us with. Our products incorporate well-researched ingredients that are unparalleled in the skincare world. We feature hemp and CBD extracts in our formulas that have proven to deliver exemplary results. And the CBGärdN creams are no different!
Today, we'll be talking about 6 important reasons that you need to incorporate a CBGärdN cream into your daily routine. So, let's dive in!
A CBGärdN Cream Captures the Essence of Hemp and CBD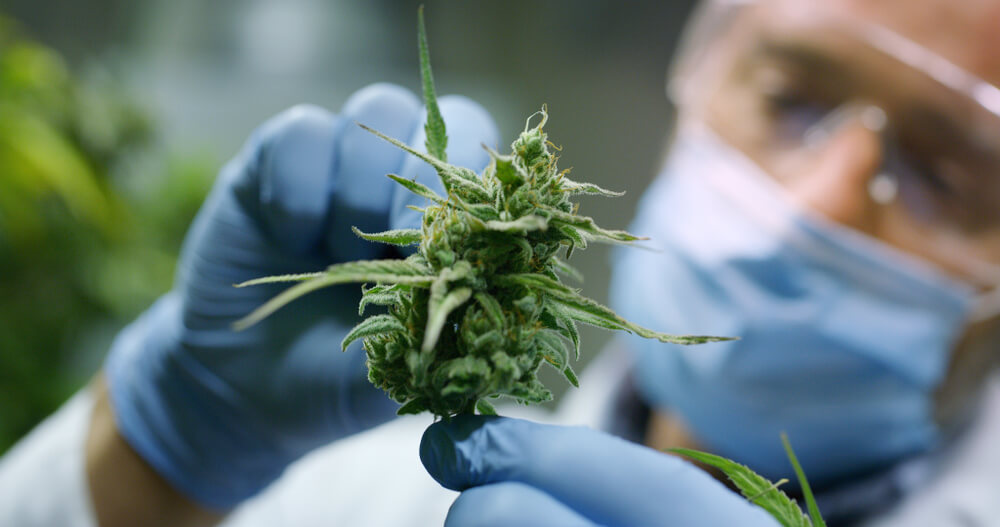 A CBGärdN cream isn't like your average moisturizing cream. Why? Our creams are infused with extracts derived from the Cannabis Sativa plant — hemp and CBD.
Hemp is extracted from the seeds of the plant while CBD is made from its stems and leaves. Both of these extracts help to keep your skin hydrated and looking healthy but there are some subtle differences.
CBD extract is more suitable for oily skin types as it can help keep the look of shine in balance. It adds hydration to your skin without leaving it looking greasy. On the other hand, hemp extract is more suited for dry and sensitive skin because of its deeply moisturizing properties. It can help reduce the appearance of rough, irritated skin, leaving you with a smooth and glowing complexion.
CBGöld Bio-Restorative Crème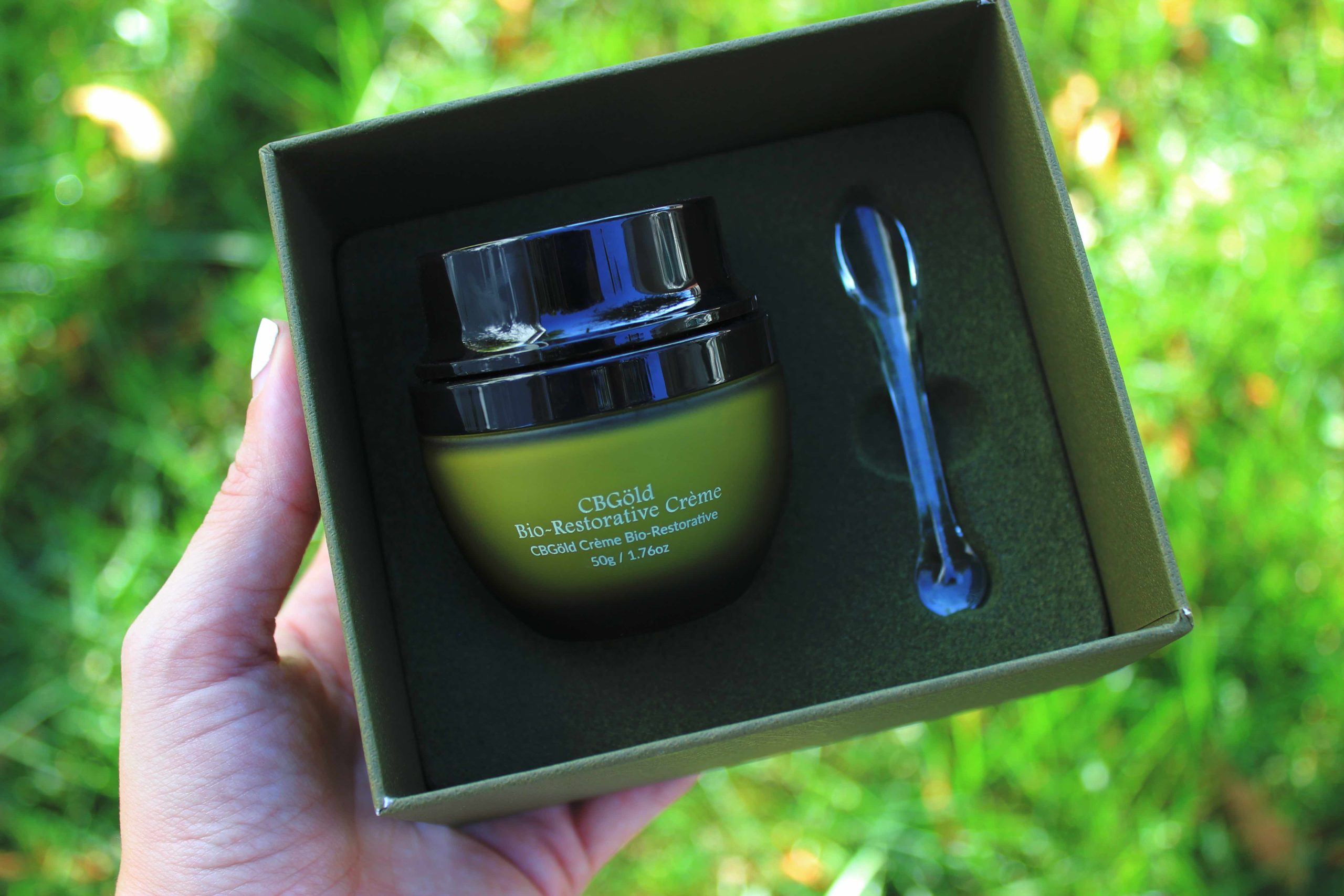 We can't think of a better CBGärdN cream that highlights the best properties of hemp seed oil other than the CBGöld Bio-Restorative Crème. The formula is designed to be rich yet lightweight — just the ideal texture for keeping your skin looking plump and fresh!
This velvety cream perfectly highlights the exceptional properties of hemp seed oil for rejuvenating the skin's appearance. It's infused with a powerful selection of plant botanicals and vitamins to deliver a lasting glow.
What's included in the cream?
The CBGöld Bio-Restorative Crème restores your skin's natural glow with the power of vitamin E acetate. This vitamin derivative is highly effective when it comes to diminishing the appearance of acne scars and damaged skin. The formula also infuses sunflower seed oil, which is an underrated skincare goodie to hydrate and shield your complexion. This ingredient is rich in vitamins A, C, D, and E, which help to ease the visible signs of red, puffy skin, aging, and dullness. Sunflower seed oil is also a valued source of linoleic acid (vitamin F), which helps to reinforce your skin's natural barrier and enhance its feel.
Another fatty ingredient in this CBGärdN cream to soften the texture of your skin is shea butter. Due to its high levels of vitamins and fatty acids, shea butter is ideal for improving your skin's moisture content and maintaining its soft and supple feel.
Our hemp-infused cream features the perfect lightweight formula that's suitable for daily wear. It's bound to leave your skin looking plumper, brighter, and ultra-replenished!
CBGärdN Creams are Infused With Advanced Ingredients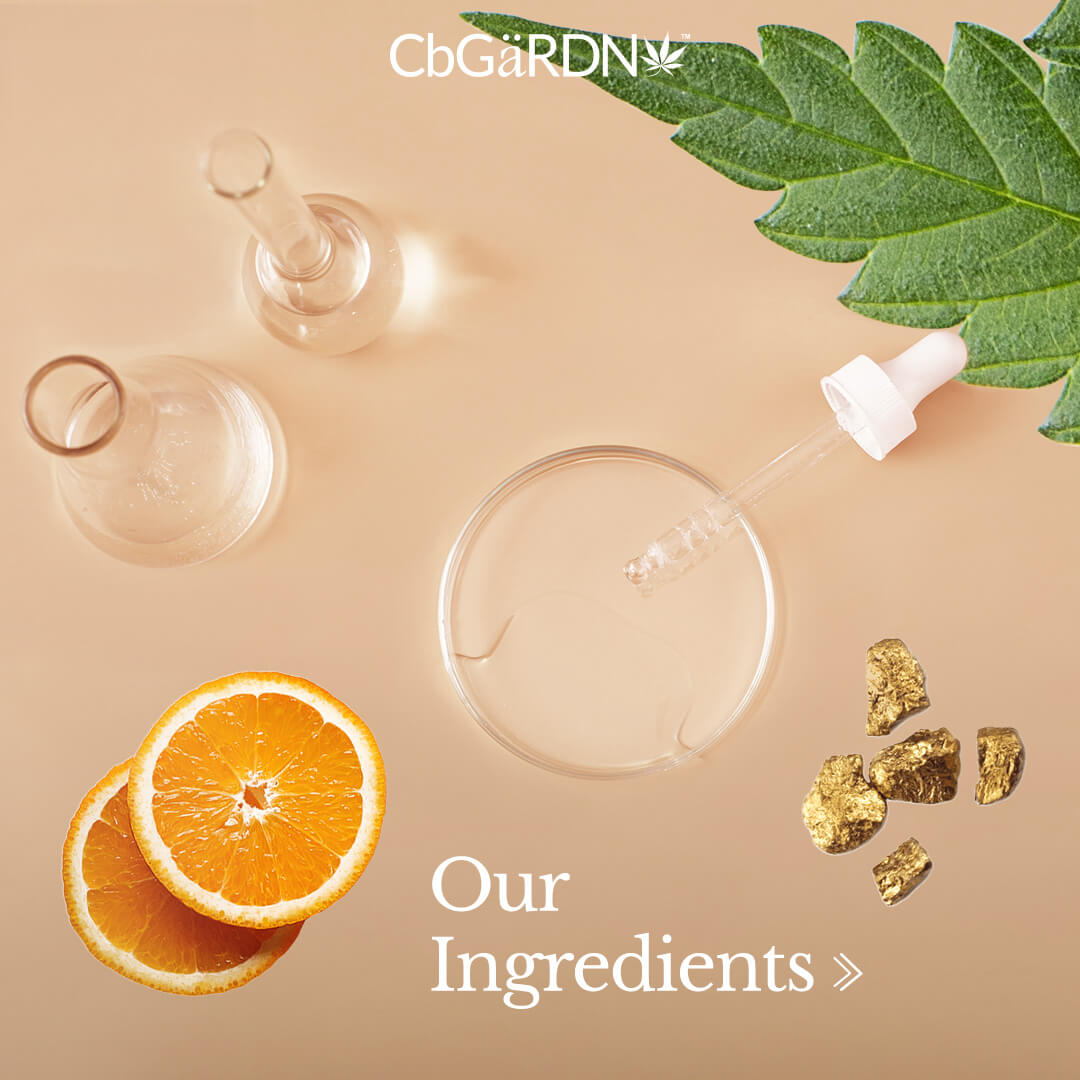 What makes a CBGärdN cream so special is that our brand's focal point is utilizing powerful ingredients to deliver quality results. Our wholesome skincare line infuses the best that mother nature has to offer.
CBGärdN creams incorporate renowned, research-backed botanical extracts and the latest skin-enhancing ingredients, like hemp, CBD, real gold, and ginkgo — to name a few. In every CBGärdN cream, you'll find nutrient-rich blends that are formulated to revitalize and rejuvenate the appearance and texture of your complexion.
We ascertain that only the most potent compounds from our curated list of botanicals are incorporated into the mix while retaining their maximum skin-enhancing properties.
CBDGöld Daily Rehydration Cream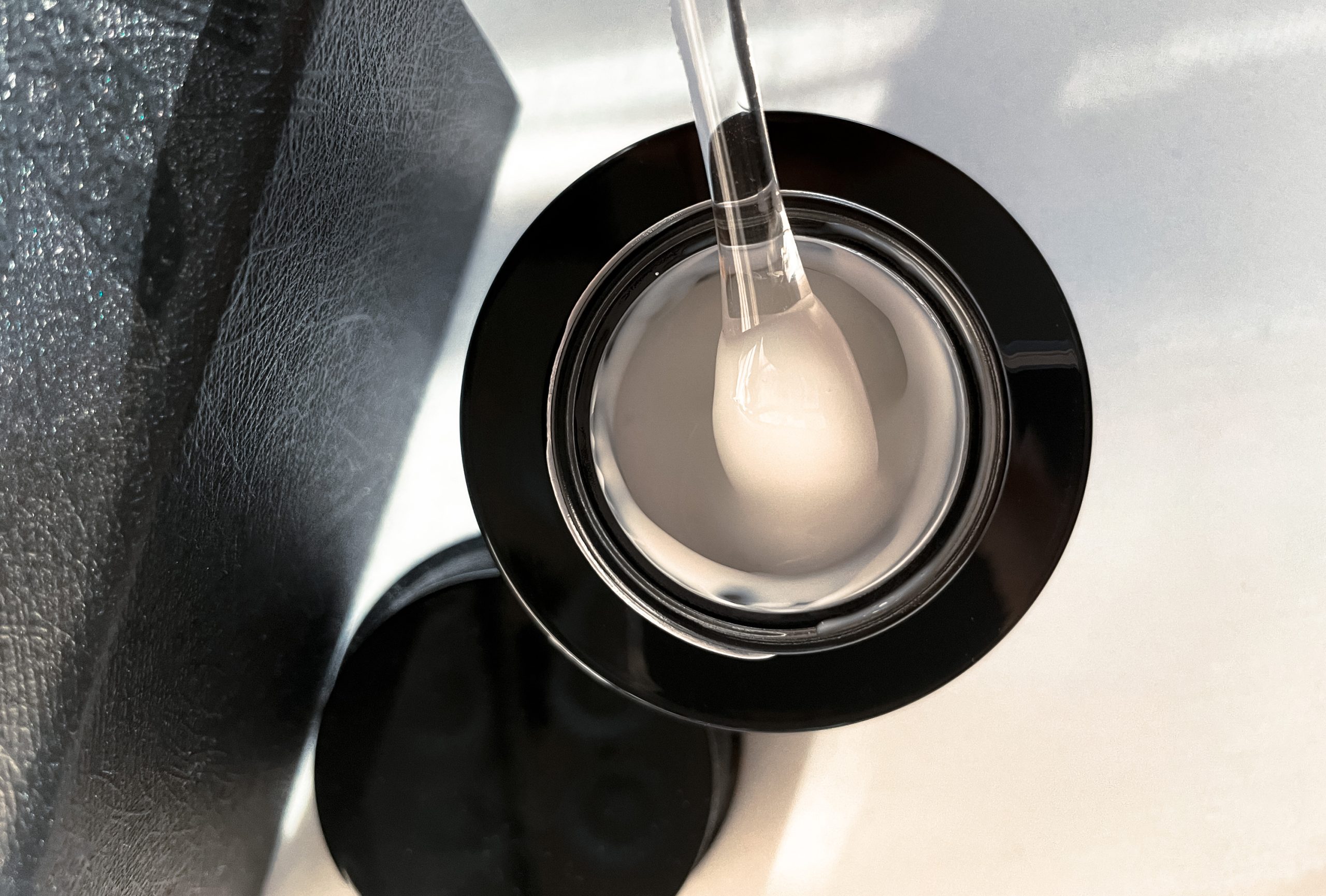 We know the perfect CBGärdN cream that will do the trick! The CBDGöld Daily Rehydration Cream from our exclusive CBDGöld Thermal Collection is a rich formula to pamper your skin with the properties of hemp seed extract. It features a buttery yet light blend that won't overwhelm your skin.
With ingredients like vitamin A palmitate and vitamin E acetate, it helps enhance your skin's complexion. Studies have shown that vitamin A palmitate is effective in diminishing the visibility of photodamage on your skin. Vitamin E is also proven to reduce the visible signs of damaged skin and deliver a youthful glow.
This CBGärdN cream is rich in botanical extracts, including rose, grape stem cells, grape seed, dog rose fruit, and rosemary leaf extracts. These ingredients have strong properties to diminish the look of aging on your skin. They can help reduce the visibility of wrinkles, fine lines, hyperpigmentation, and dullness — all tell-tale signs of maturing skin.
Topped off with a powerful BHA, like salicylic acid, this cream can rejuvenate your whole look! But what makes the CBGärdN cream stand out is the use of real gold in the blend! The infusion of gold in skincare has been linked to improved texture and tone.
Experience a brighter complexion, firmer appearance, and supple feel with these decadent ingredients at play.
Delivers "Glowing" Results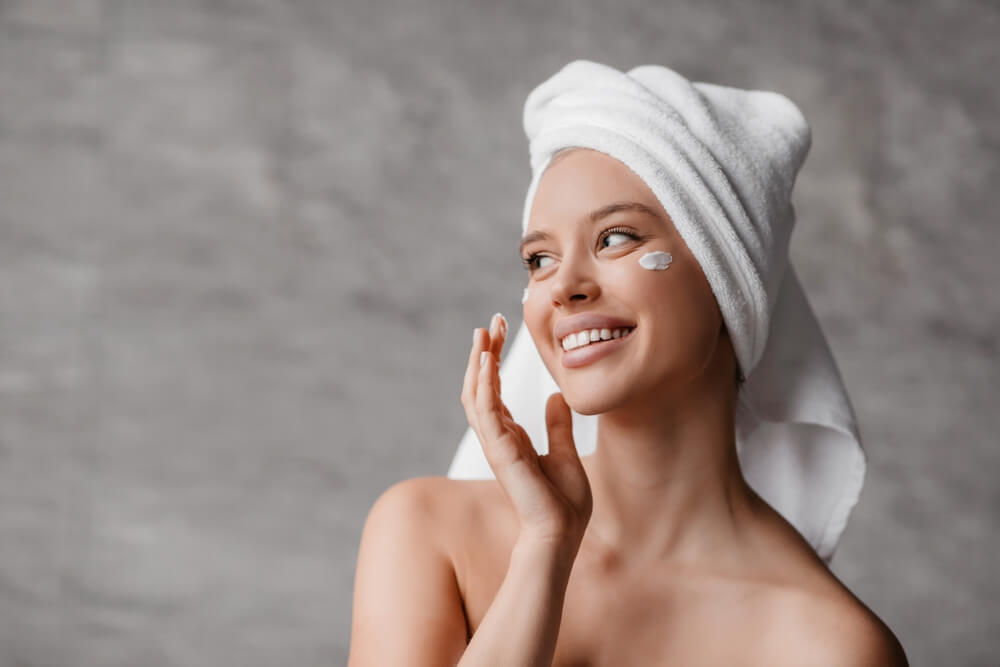 The lack of hydration in your skin can be the root cause of many apparent skin irregularities. When the skin lacks moisture, it begins to dull and crack, making your wrinkles and fine lines more prominent in the process. It can also cause acne because of an overproduction of sebum to make up for the skin's low moisture content.   
Moisturizing creams can be your skincare game changers IF you know the right formula to pick.
CBGärdN has unveiled the secret to skin that appears healthy, glowing, and happy. The natural botanicals that we incorporate into the CBGärdN cream formulas can help you attain the luminous radiance you've always been searching for. Their deep hydrating and complexion-enhancing properties can work wonders for unveiling your inner beauty.
CBGöld Night Renewing Crème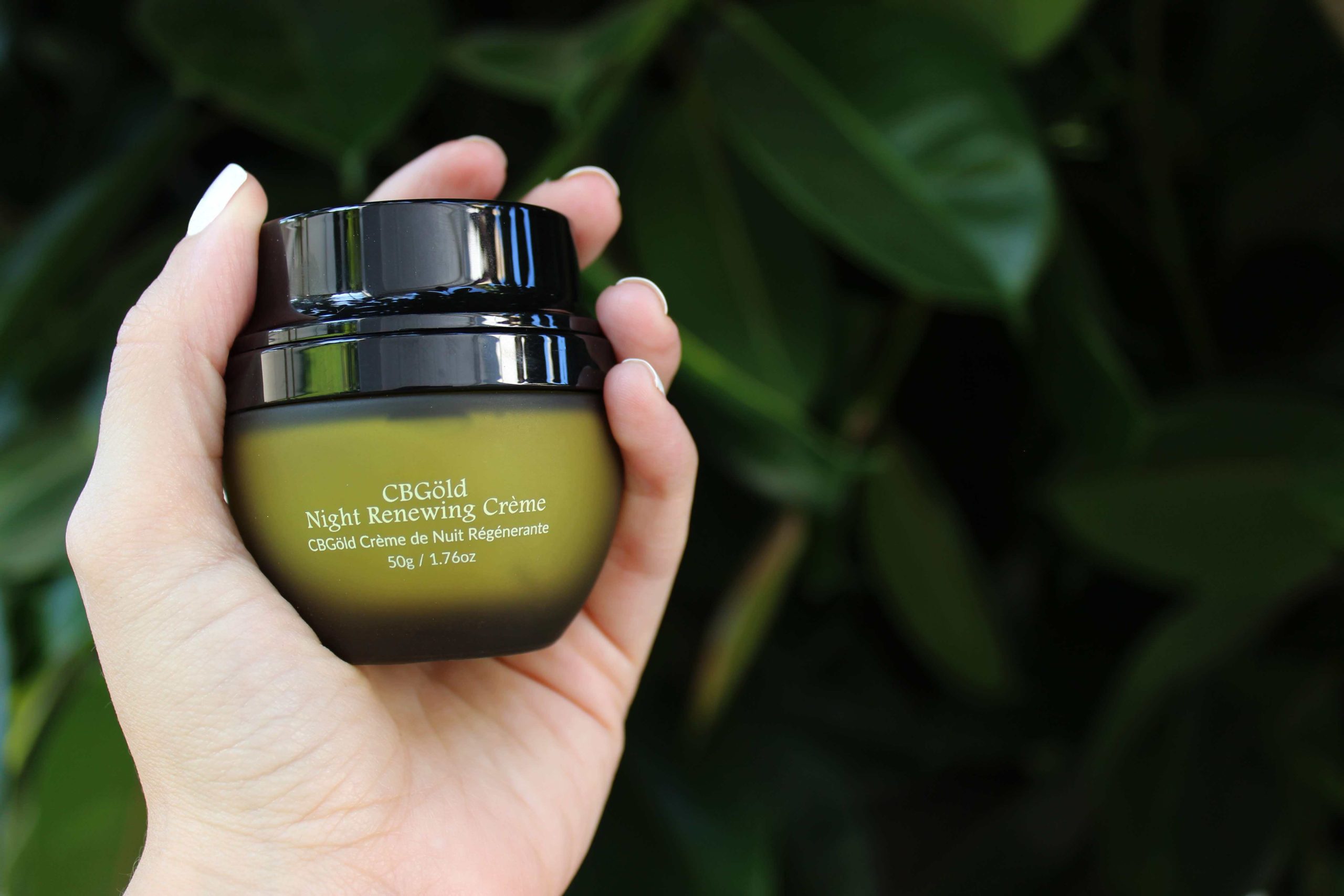 Let's talk about the sensational CBGärdN cream that will leave you with glowing, healthy-looking skin when you wake up!
The CBGöld Night Renewing Crème is just what you need to improve the look of dull, weary skin. It's revitalized with powerful plant oils and moisturizing butters to give your skin a plump, dewy appearance. The formula includes hemp seed oil, which plays a key role in brightening up your complexion. This oil incorporates a high percentage of minerals, fatty acids, and vitamins (especially vitamin E) to alleviate dryness and delay the look of aging on your skin.
The formula is enhanced with shea butter and sunflower seed oil — both rich sources of skin-enhancing fatty acids. These acids work to ease the visibility of puffy, irritated skin and aid in maintaining your skin's barrier function. They also work effectively to diminish the look of aging and discoloration on your skin.
If you want to wake up to a glowing and renewed complexion, this CBGärdN cream won't steer you wrong! The richly-decadent formula will leave your skin with a soft feel and a restored luminosity every single morning.
For the best results, we recommend that you use the CBGöld Night Renewing Crème every night before going to sleep. It'll take care of your skin's hydration needs overnight as you get a good night's rest!
Not Too Greasy, Not Too Light — Just Right!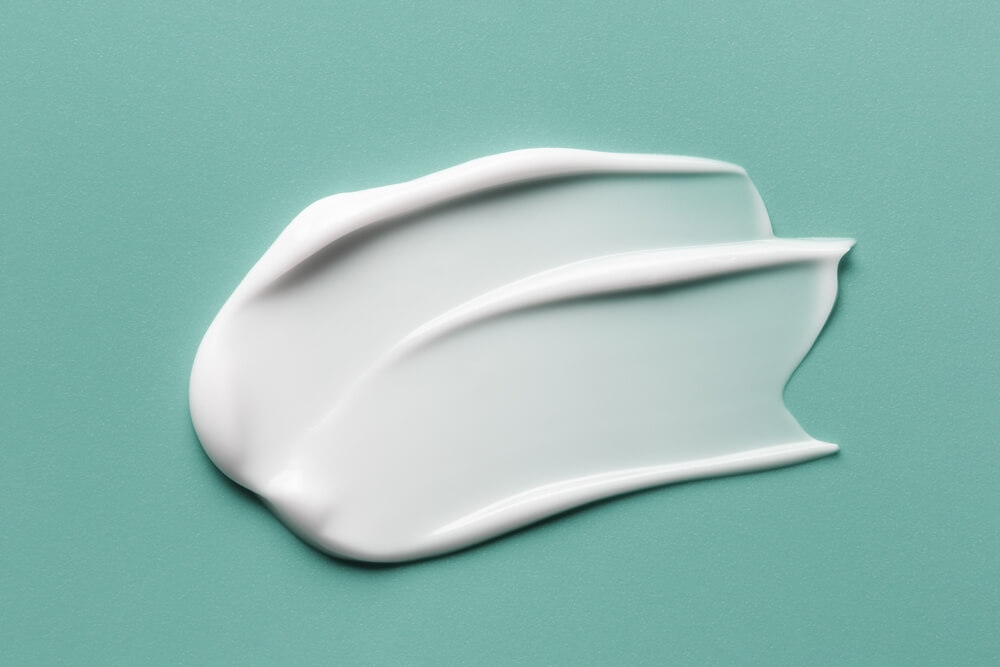 Every CBGärdN cream is formulated to suit a variety of skin types. That's why our formulas are neither too heavy nor too light — they're just the right consistency to give you the moisturizing results you need!
While heavy creams might seem like they would serve a good purpose for people with extremely dry skin, the reality is not as cut and dried. When you overwhelm your skin with heavy creams, it interferes with your natural hydration processes. This way, your skin can feel dependent and weaker over time.
With a CBGärdN cream, you get light and effective blends that aid your skin's natural functions and help it retain water.   
CBDGöld Eye Serum Concentrate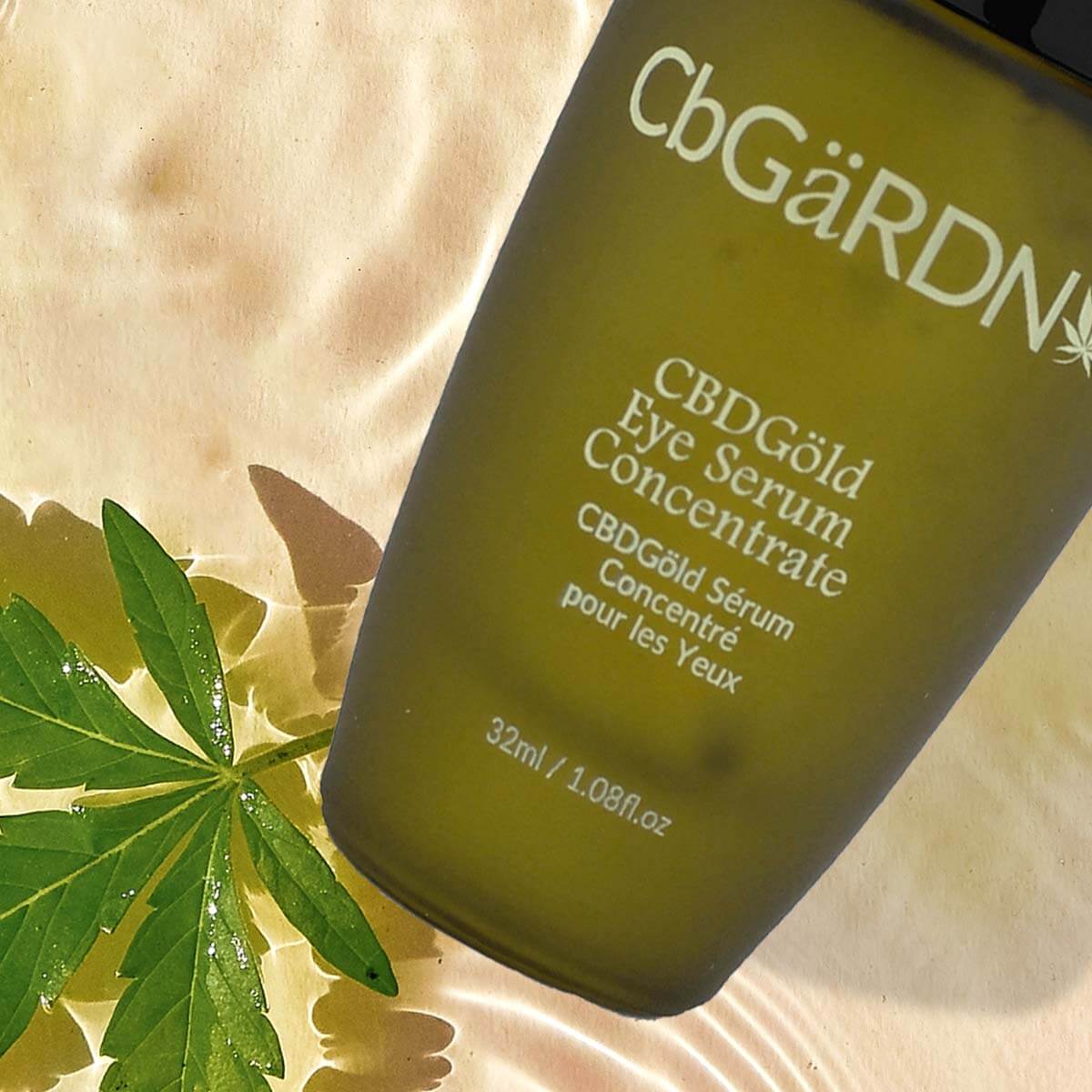 And while we're on the subject of light, effective blends, we'd like you to take a look at our CBDGöld Eye Serum Concentrate. Bearing in mind how delicate the skin around your eyes is (far more than the rest of your face), we've created this miraculous blend to relieve dryness. It infuses the benefits of CBD to help make your eye area appear youthful and rejuvenated. This extract has proven to help ease the look of dark circles and wrinkles.
Not just that; crow's feet, puffiness, loss of firmness, and uneven texture are all textbook signs of maturing skin around your eyes. The serum incorporates real gold and a multi-peptide blend to brighten up your appearance and fade the look of these common signs of aging.
It also includes sodium hyaluronate and vitamin C to hydrate and brighten up the look of your skin. Among plant botanicals, pot marigold, green tea, kudzu root, ginkgo, and aloe vera extracts are blended in the mix. These are remarkably effective at minimizing the look of damage. Their high nutrient content is great for fading the visible signs of aging and rekindling your youthful glow!
Gives You a Youthful Appearance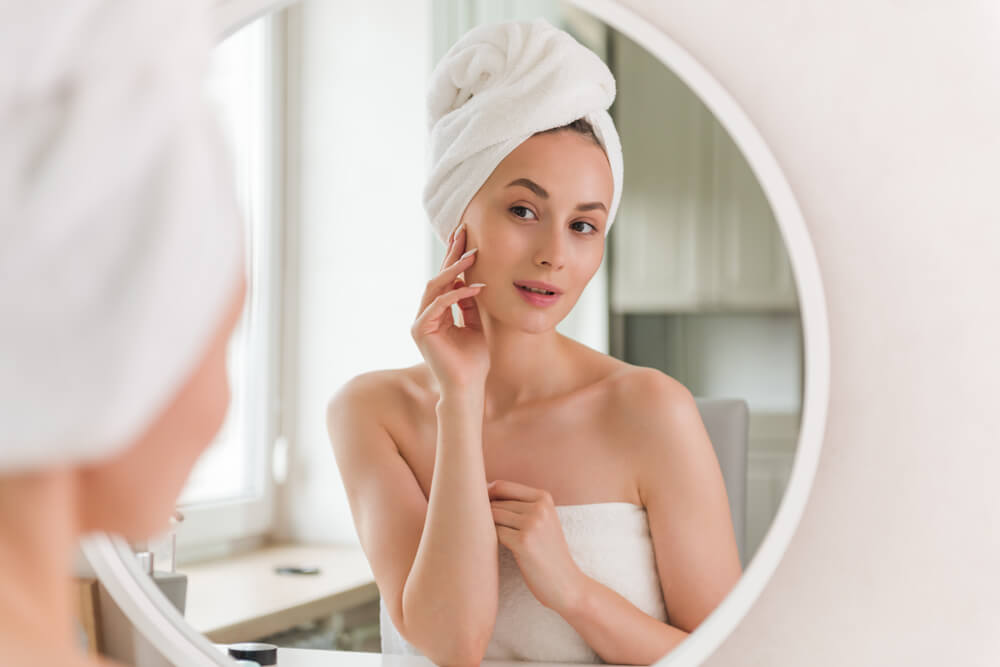 A CBGärdN cream can give you a youthful, lively look and help you stay true to your inner beauty! Moisturizing alone in your daily skincare routine holds most of the credit for the results you see in the mirror. These creams, incorporating the right blend of nutrients, can help significantly improve the appearance of your skin.
Reinforced by hemp and CBD extracts, a CBGärdN cream can help fade the appearance of aging, including wrinkles, fine lines, liver spots (sun spots), saggy skin, and dryness. You won't have to worry about mature skin stealing your glow anymore!
CBDGöld Timeless Age-Defying Syringe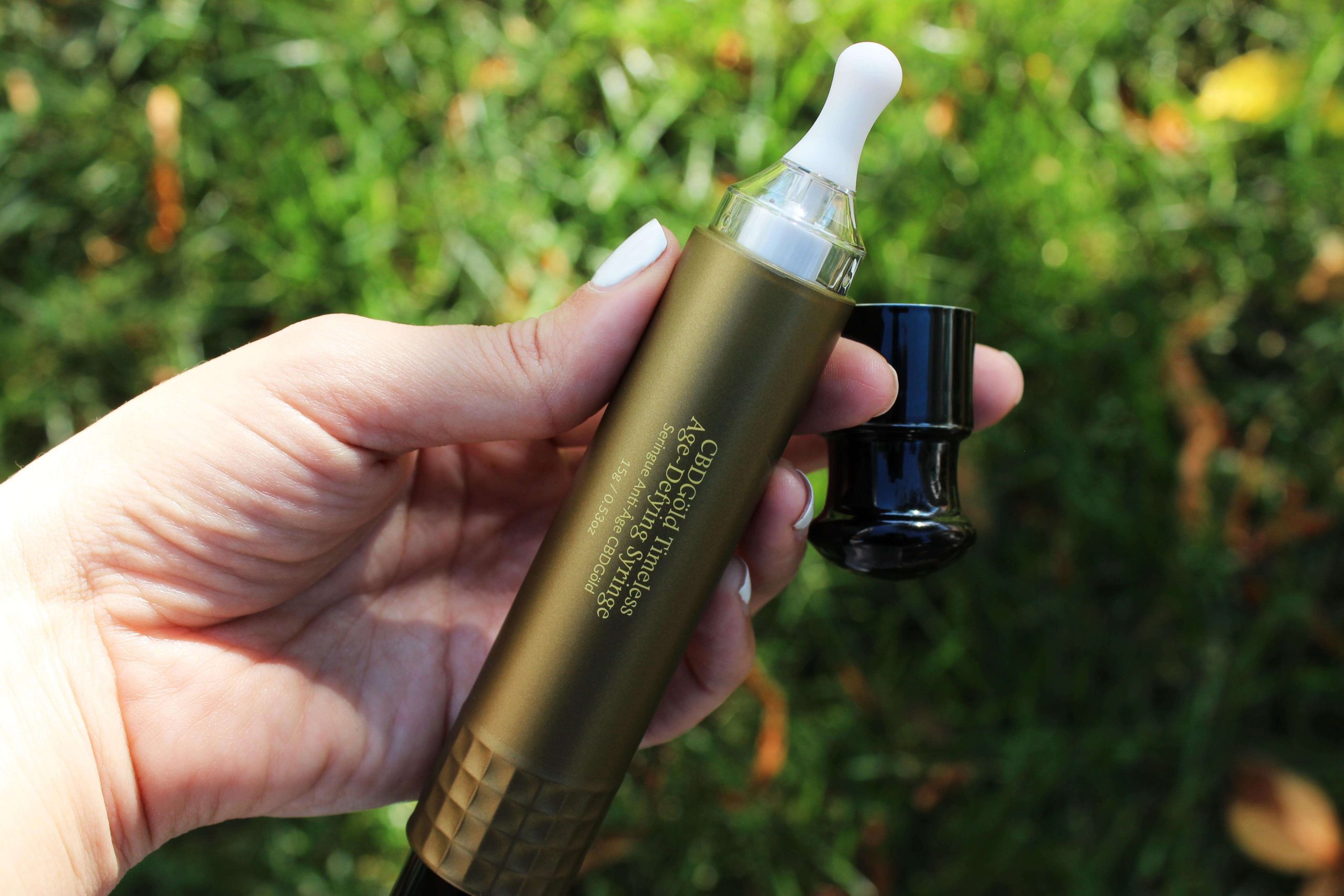 Aside from creams, CBGärdN has an exclusive skincare formula designed to ease the visible signs of aging.
Our CBDGöld Timeless Age-Defying Syringe is powered by acetyl hexapeptide-8, hemp seed extract, and real gold to make your skin look much younger than before! These ingredients help ease the look of wrinkles, dark spots, and dullness while boosting your skin's hydration levels.
The formula also includes vitamins A and E along with skin-enhancing avocado and sweet almond oils to help diminish the visibility of damage on your skin.
Evens Out Your Skin Tone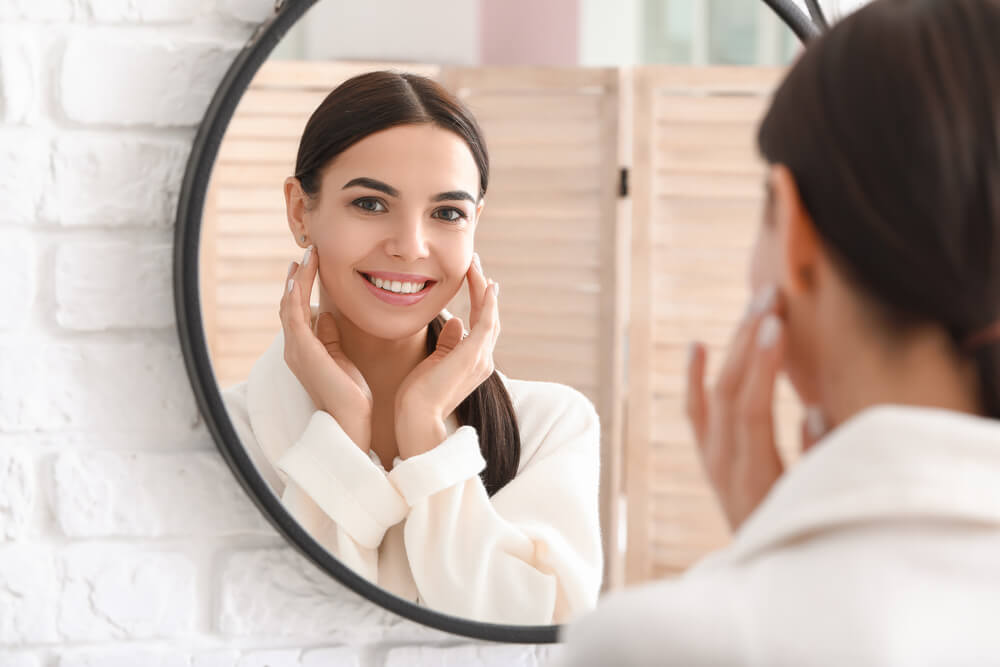 With a CBGärdN cream, you can attain a bright, even complexion to have you looking your best all day long! Our creams contain a meticulous collection of ingredients that are praised for their ability to ease the look of sunspots or any other form of hyperpigmentation on your skin.
You'll find ingredients like licorice root extract, hemp oil, CBD extract, grape stem cell extract, rosemary extract, and vitamin A palmitate in our formulas. All of these have shown high potential in evening out the tone of your complexion and giving you a more clarified look.
Use a CBGärdN Cream to Find Your Inner Beauty!
So, you can't go wrong with a good CBGärdN cream in your skincare arsenal. We firmly believe in the power of nature to aid in the healthy appearance of your skin. That's why you'll find that our creams are the ultimate go-to for your skin's moisturizing and revitalizing needs.
So, go ahead and try out a CBGärdN cream today for exceptional results! Alternatively, click here to browse more of our CBD and hemp-infused bestsellers.