Published: July 30, 2022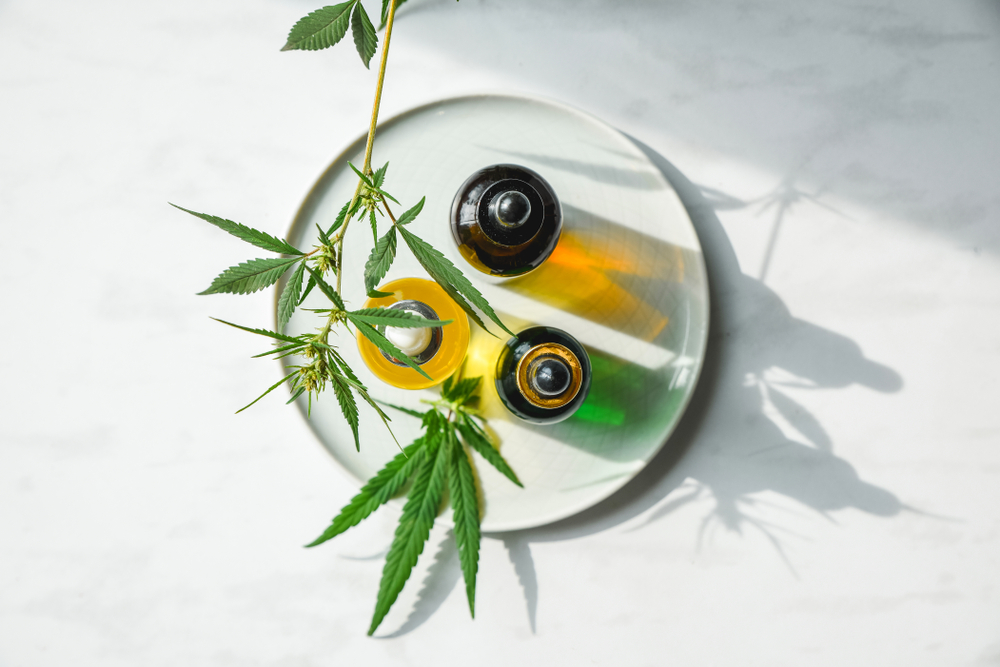 One of the most popular ingredients to shake the core of several industries is not something you'd expect — CBD! This plant chemical has been incorporated into many different types of products, including soothing oils, health supplements, and gummies! Therefore, it was only a matter of time until it hit the skincare industry.
CBGärdN is a brand that believes in feeding your skin what it truly desires. All of our ingredients are powerful and well-researched, designed to give quality results. We were inspired by the wondrous skin-enhancing properties of CBD oil and decided to translate it into our skincare line.
But, what is CBD skincare? Is it worth all the hype? How does CBD help your skin? This read will touch on all the basics of CBD skincare, hopefully answering all your queries about the hottest new ingredient in the skincare world.
Here's the complete CBD 101 to help you assess whether CBD skincare is for you.
What is CBD?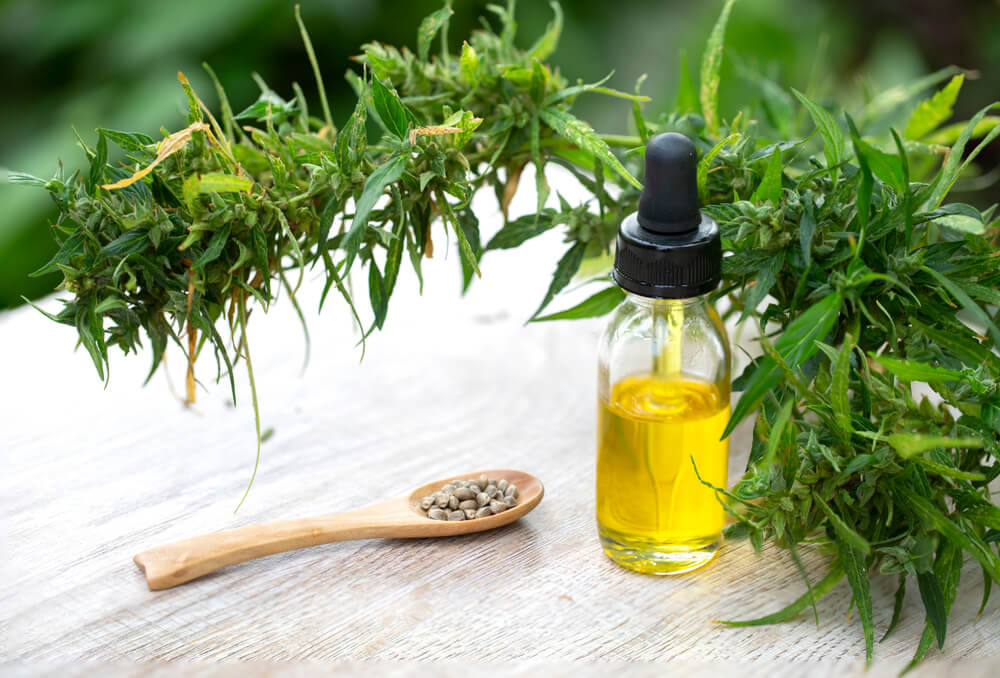 CBD is Cannabidiol — a compound located in the cannabis plant that interacts with the CBD receptors in your brain; CB1 and CB2. It can be quite helpful for your skin as well, delivering an array of benefits to revitalize its look.
CBD oil is derived from the hemp plant by extracting cannabidiol from its leaves and flowers. It can be extracted from the cannabis plant as well but it's not a profitable option. Hemp has a lot more CBD to offer and no THC — a psychoactive compound that gives a high when consumed.
So, with a higher amount, hemp presents a lucrative option for manufacturers while also harboring the least legal complications. This extracted CBD oil is then diluted with a carrier oil, like coconut oil or even hemp seed oil, to improve its bioavailability and help it absorb properly into our skin.
How Does CBD Work in Skincare?
CBD first made its way to the medical industry for its purported relaxing properties. Several activities exhibited by this chemical deemed it suitable for therapeutic use. It could have positive effects on people with anxiety, epilepsy, and more.
These therapeutic properties can also be channeled towards improving the look of your skin. It's efficient in inhibiting the visible signs of skin conditions like inflammation, acne, and eczema. From that point forward, CBD's use gradually expanded into the skincare industry and many new revolutionary CBD products have started to appear on the market as a result!
How CBD Skincare Can Benefit Your Skin
Now that you've got the gist of how CBD can work on your skin, let's dig a little deeper into its benefits. Here are five primary benefits that CBD skincare can have on your skin's overall wellbeing:
Fades the Appearance of Acne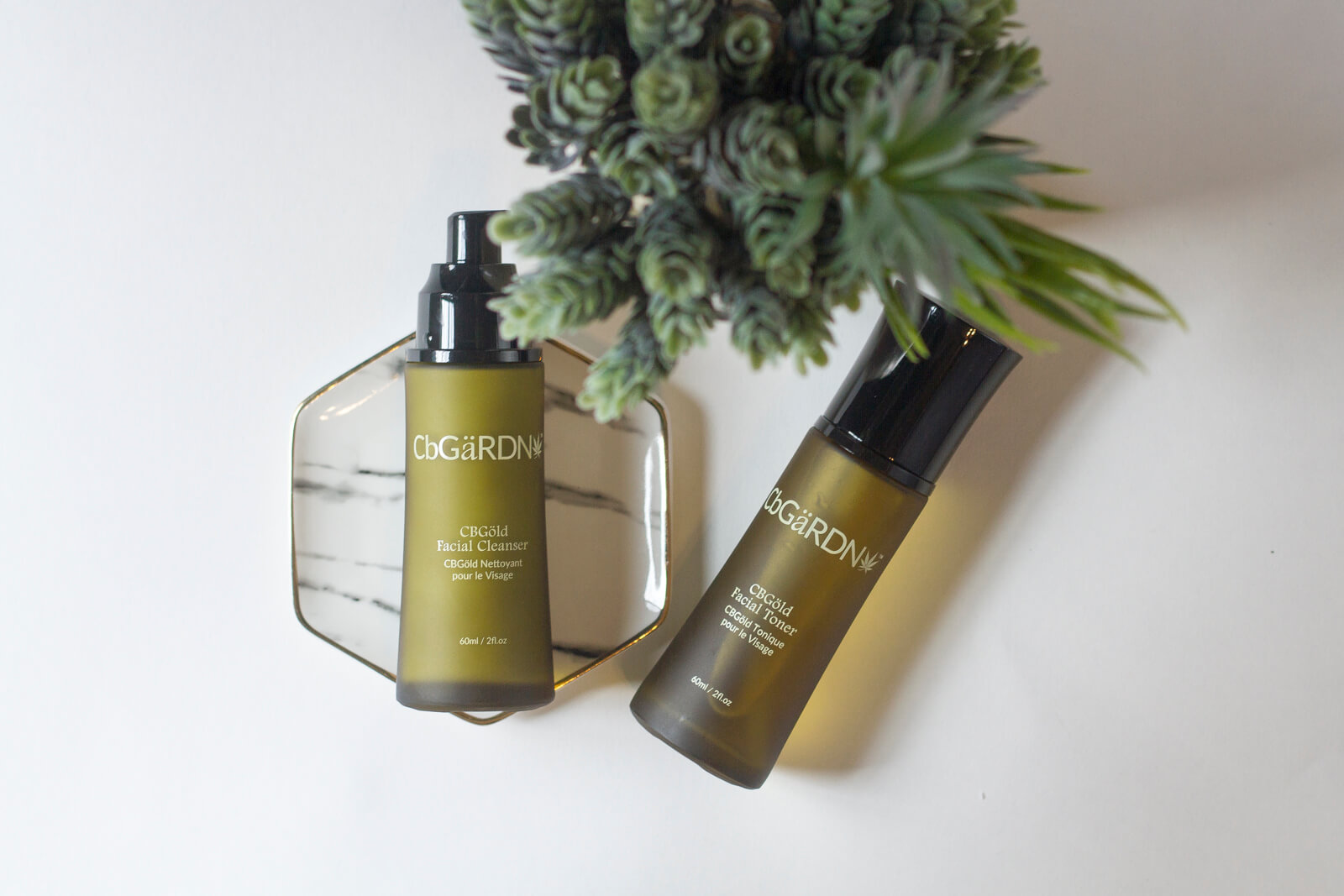 People with acne have to deal with a lot on a daily basis; fighting the urge to pop one or two, dealing with the aftermath in both cases, and having to wade through products to make sure nothing aggravates your condition.
Today, acne is still one of the most common skin concerns. The global acne treatment market was valued at $8.99 billion in 2021. In the midst of all the skincare products for acne, CBD has emerged as a revolutionary ingredient. Many of its properties point toward clearing the visibility of acne.
CBD is known to help clarify and purify the look of your skin, thus diminishing the visible signs of acne profoundly.
If you want to give your skin a sensational cleanse, you might want to check out our CBGöld Cleansing Elixir Kit. It incorporates our CBGöld Facial Cleanser that's formulated with cannabis sativa seed oil. It's important to note that this oil, also known as hemp seed oil, has little to no CBD. However, it's still rich in nutrients and fatty acids to enhance the look and feel of your skin.
Our facial cleanser is also enhanced with mineral oil and hydrogenated castor oil to ensure the healthy look of your skin. The gentle formula is designed to cleanse your skin properly without leaving it dry. Use it daily to make your complexion appear clear and radiant.
This showstopping kit also features our CBGöld Facial Toner. It's infused with rich ingredients like hyaluronic acid, niacinamide, and cannabis sativa seed oil. These ingredients work to make your skin appear soft and supple while ensuring its healthy-looking glow. This sensational formula is perfect for all skin types. Apply it to your skin after cleansing for a balanced and hydrated look.
Reduces the Look of Acne Scars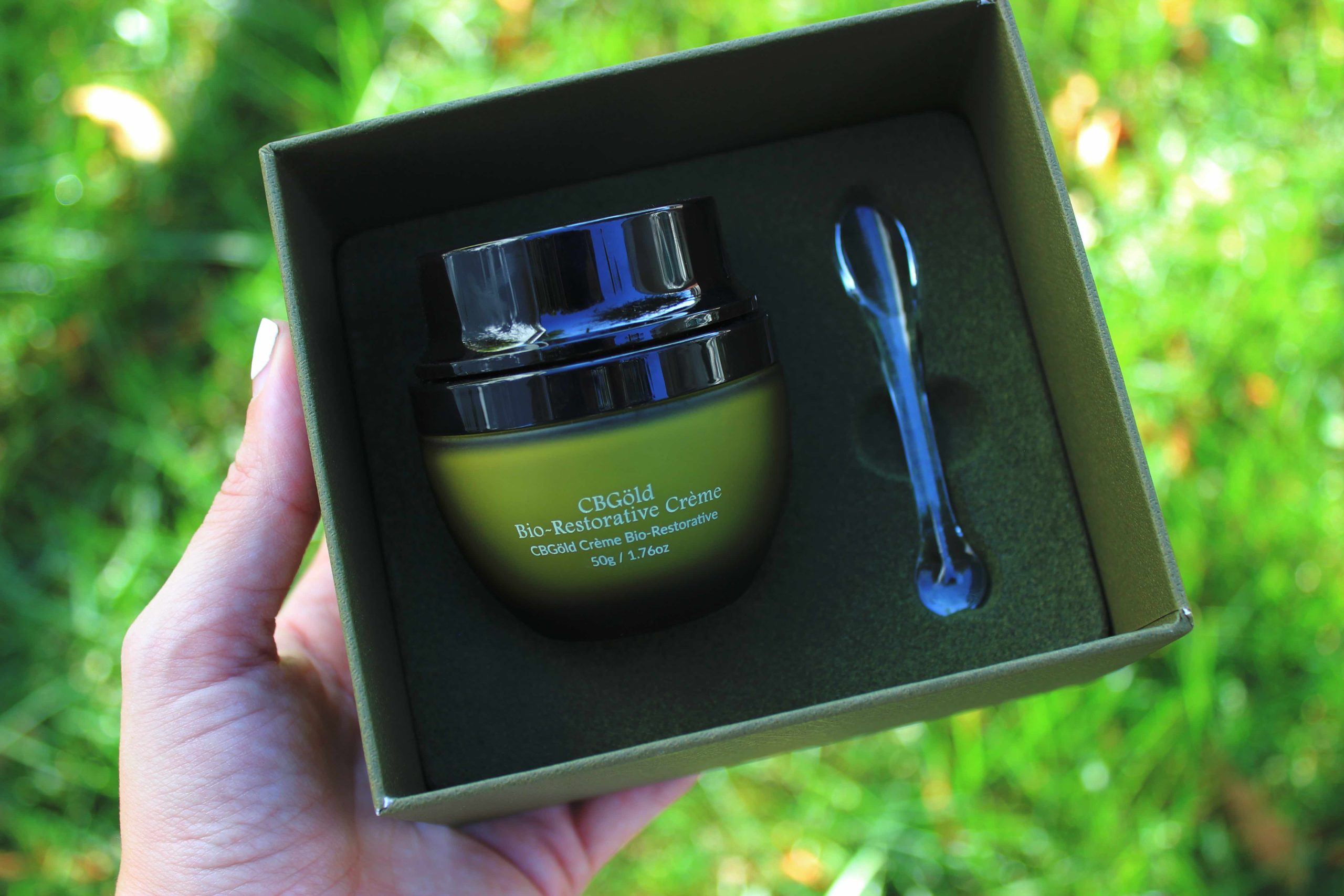 CBD has also shown many properties that can help fade the visibility of acne scars. It works to give your skin a radiant glow, making it appear more even-toned and fresher than before. Thus, CBD skincare products make an excellent choice for people dealing with acne on a daily basis.
If you're in the same boat, don't worry because CBGärdN has just what you need! Our CBGöld Bio-Restorative Crème features a rich, velvety yet lightweight formula that can help you reignite your glow!
This sensational cream is loaded with rich plant extracts laden with essential fatty acids to give your skin a plumper, brighter feel. It features vitamin E acetate that plays a key role in diminishing the look of acne scars on your skin. The revolutionary formula is also infused with cannabis sativa seed oil, oat protein, sunflower seed oil, and shea butter to ramp up your skin's moisture content while giving it a smooth-feeling texture.
Relieves Dry Skin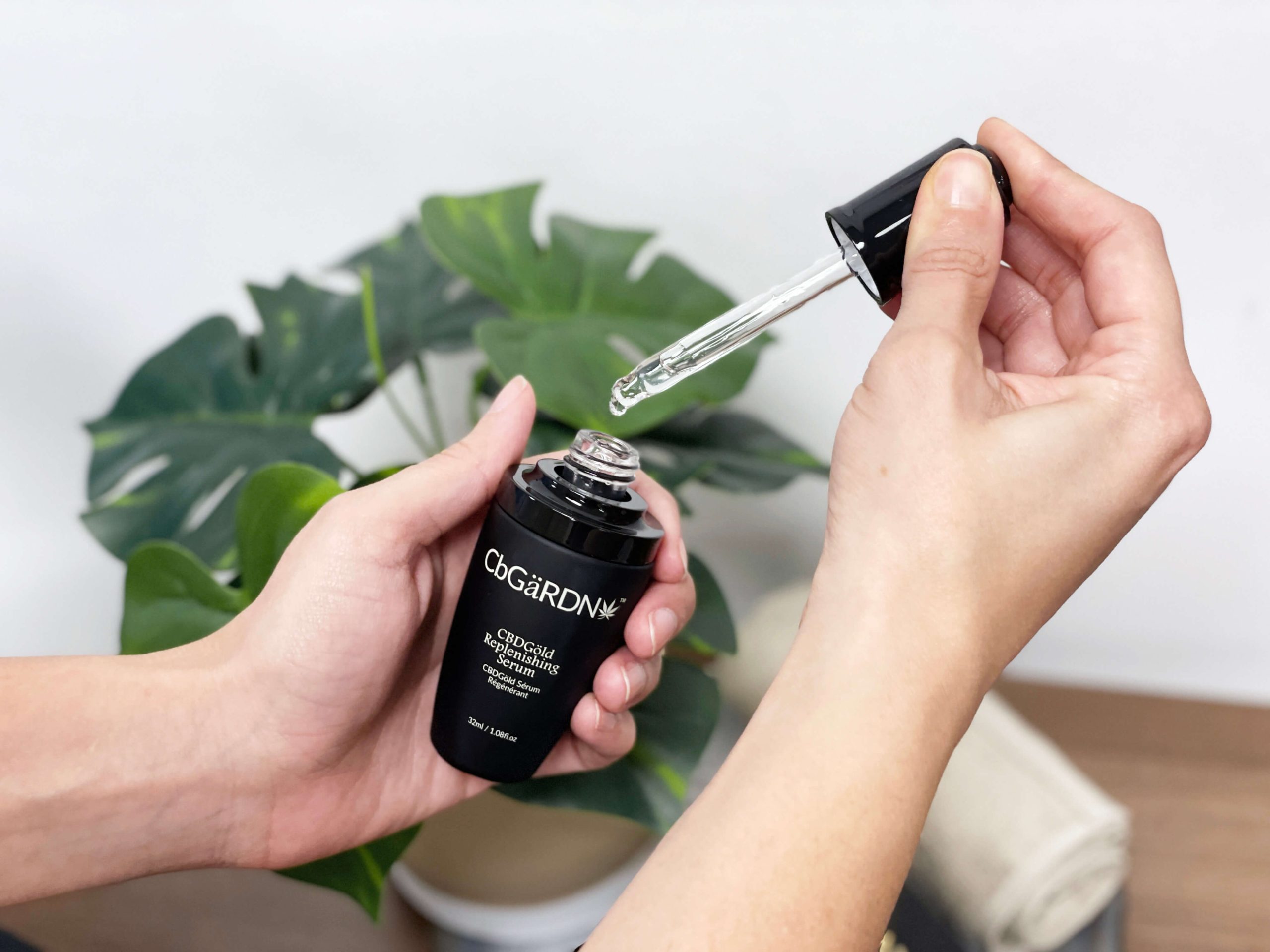 Dry skin can cause a lot of accompanying problems, including increased irritation, rashes, and redness. CBD has shown great results in helping to increase your skin's moisture content. That's why you'll find many CBD skincare products formulated to diminish the look of dry skin conditions, like atopic dermatitis, psoriasis, and eczema. This compound is wonderful for helping to keep your skin feeling smooth and supple, reducing the visible signs of dry skin. It also makes a great ingredient for people with sensitive skin.
If you want to relieve dry skin with CBGärdN, check out our CBDGöld Replenishing Serum. This silky-smooth formula features a rich multi-peptide blend with sodium hyaluronate — leading ingredients to enhance your skin's moisture content.
This lightweight serum is designed to leave your skin feeling smooth and supple while diminishing the look of fine lines and wrinkles. The formula is also infused with rich extracts, including cannabis sativa seed, hawthorn berries, lilac, apple, and grape cell to give your skin an unparalleled treatment. Our CBDGöld Replenishing Serum is the ideal product to make your skin feel velvety smooth!
Diminishes the Visible Signs of Aging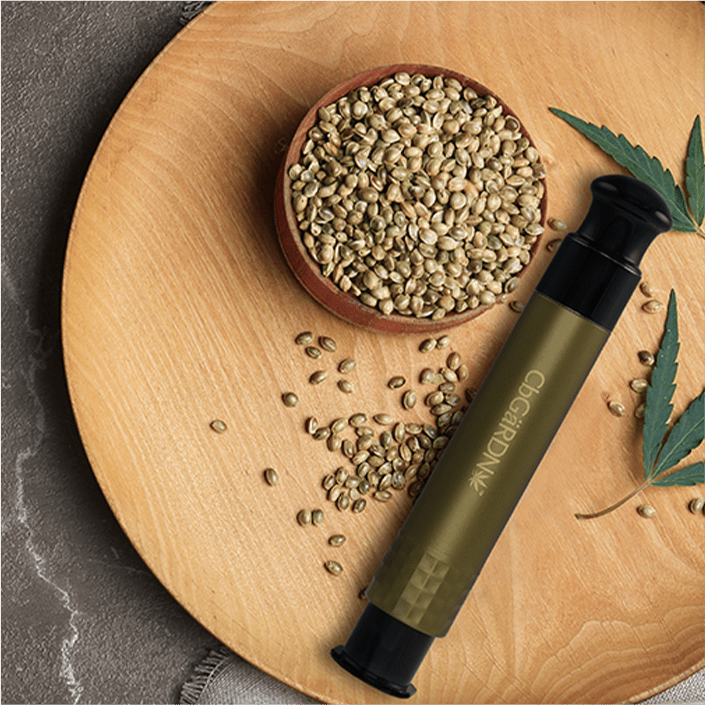 Aging is a natural process that everyone must go through. As you enter your 30s, you'll start to notice wrinkles, fine lines, dark spots, and dullness take residence on your face. For some people, these signs can come prematurely.
CBD skincare has emerged as a viable option to diminish the look of aging skin. Its properties can aid in improving the appearance of age spots, dull skin, and discoloration.
Our skincare line has a sensational product that works to fade the visibility of aging on your face. Our CBDGöld Timeless Age-Defying Syringe will give you the youthful glow you've been searching for!
This lightweight CBD skincare formula is infused with sweet almond and avocado oils that work to give your skin a healthy-looking glow. It also incorporates vitamins E and A, which both play an integral role in diminishing the appearance of age spots.
Enriched with grape seed, cucumber fruit, and cannabis sativa seed extracts, this formula is all you need to make your skin appear toned, lifted, and firm! To use, press the bottom of the syringe and apply the formula directly onto wrinkles and fine lines. Make sure your skin is clean and dry before application!
Improves the Look of Your Eye Area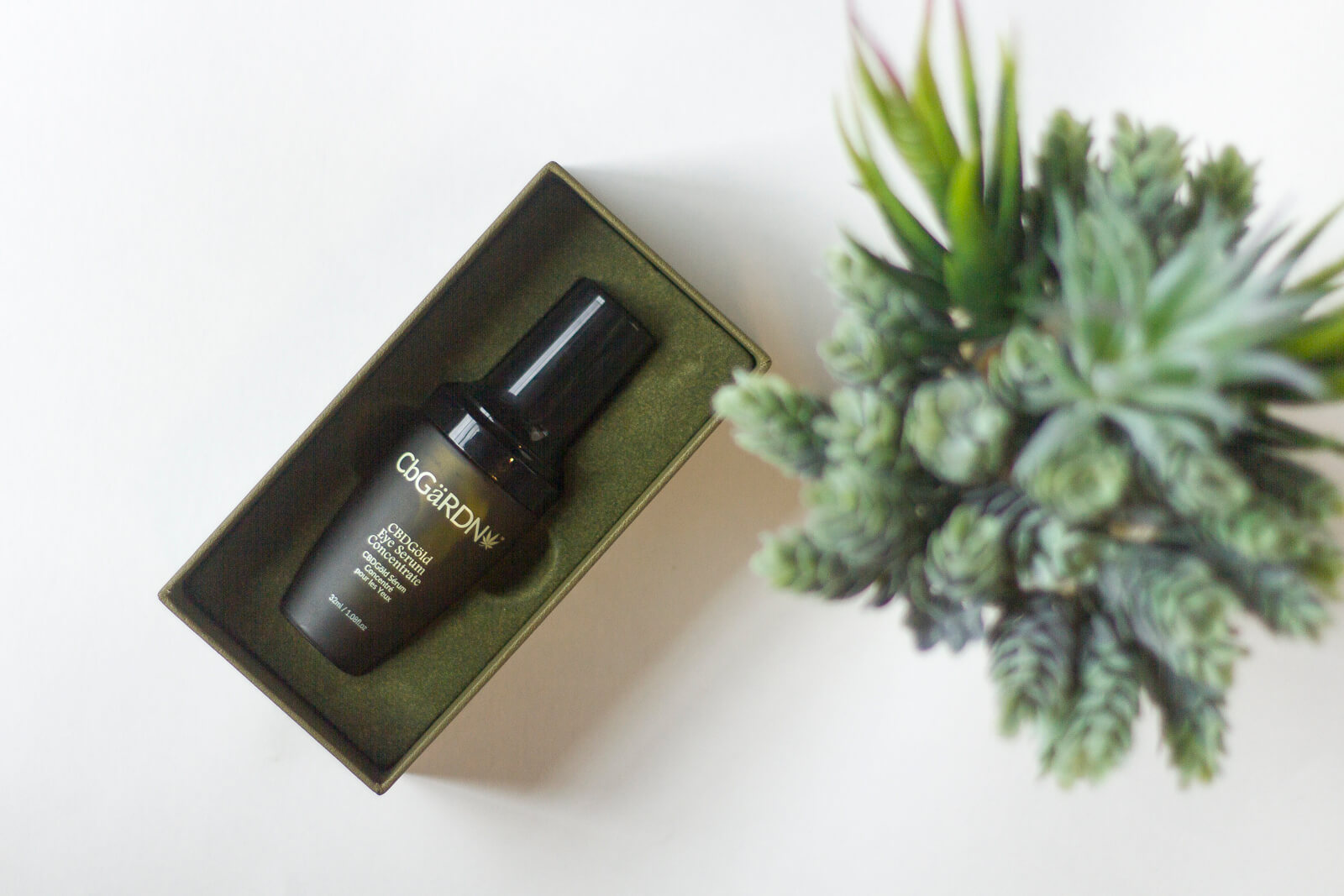 CBD skincare has also been used to help make the eye area glow. Its skin-enhancing properties can help relieve dryness and diminish the look of puffy eyes. CBD can also help reduce the appearance of dark circles under your eyes. It works effectively to enhance the look of your delicate under-eye area, making it appear brighter and much more youthful than before.
At CBGärdN, you'll find a sensational CBD skincare product to help hydrate your eye area and revive its look completely — our CBDGöld Eye Serum Concentrate.
This innovative formula captures the essence of caring for the skin around your eyes with leading ingredients like peptides, sodium hyaluronate, green tea extract, and vitamin C. This cutting-edge blend will help reduce the visibility of dark circles and puffiness under your eyes. You'll also find rich extracts in this formula, including aloe vera, marigold, maidenhair tree, and kudzu, which work to reduce the look of fatigue around your eyes.
But the star ingredient in this eye serum is the cannabis sativa extract that works to instantly moisturize the skin around your eyes and give it a vibrant glow!
Choosing the Appropriate CBD Skincare Product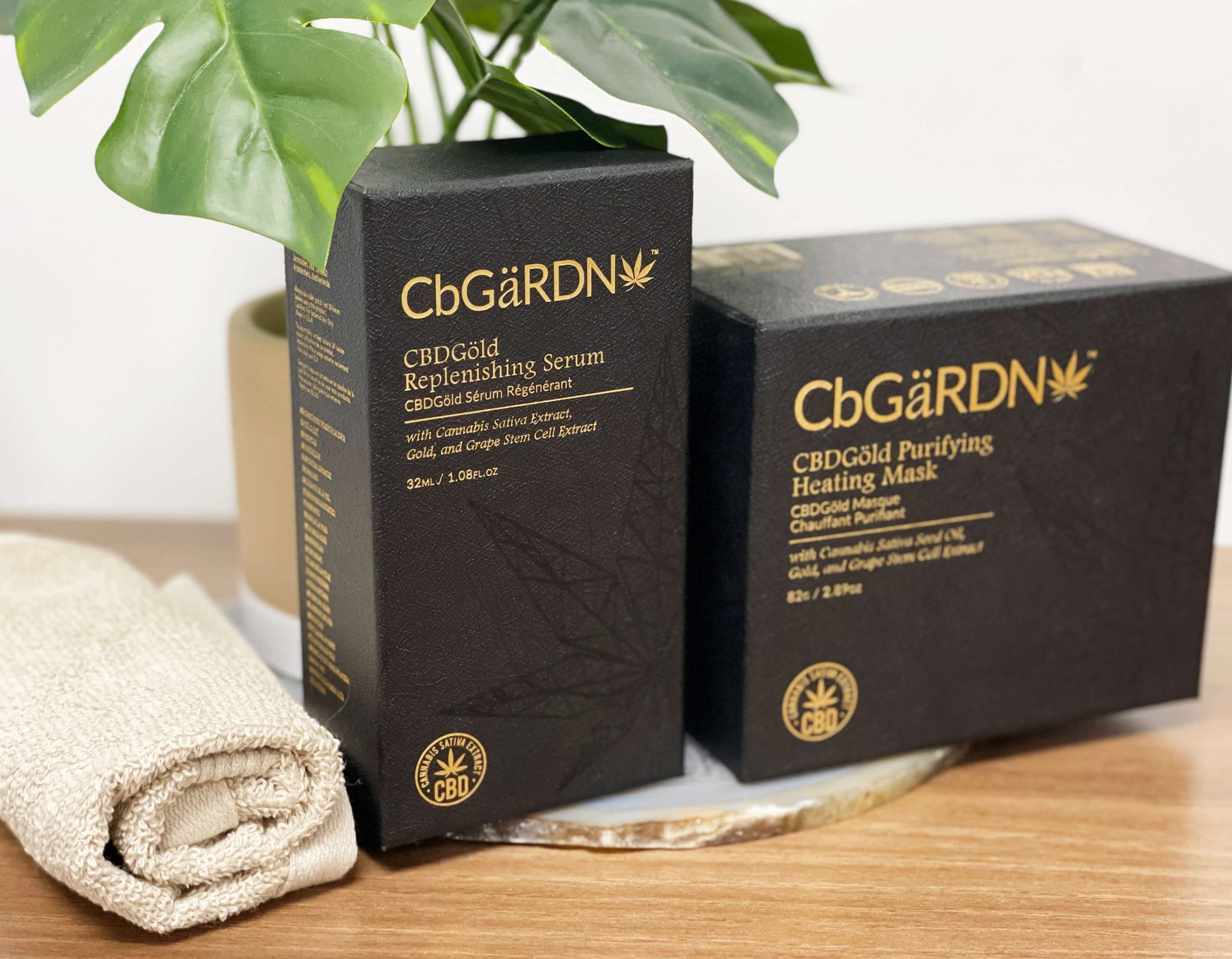 When you're searching for CBD skincare products, it's important to keep a few things in mind:
Different Types of CBD
There are three different types of CBD available — full-spectrum, broad-spectrum, and isolate. If you spot full spectrum CBD listed as an ingredient in your skincare, it implies that the product includes all the beneficial compounds from the cannabis plant. This includes cannabinoids, terpenes, flavonoids, and the legal amount of THC (0.3%). Since it doesn't penetrate the skin, THC can have no psychoactive effect on topical use, even in a higher amount. In fact, it can help diminish the visible signs of certain skin conditions.
The primary difference between broad-spectrum CBD and full-spectrum is that there is no THC in the former. This is especially helpful for people who can be sensitive to the effects of THC.
Lastly, CBD Isolate is the purest form of CBD without any other compounds you'd find in the cannabis plant. It works well for the skin as it's non-comedogenic and works to rejuvenate the appearance of your skin. Ultimately, it all depends on your skin and its specific needs to determine which would work best for you. 
Concentration
Stronger does not always mean better. Different concentrations of CBD work well for different people, so it's important to figure out what works for YOU. Skincare products tend to contain CBD in different concentrations, much like the percentages of active ingredients you normally come across. 
Quality of the Product
At the end of the day, it's the quality of the product that matters the most. It should be a brand that you trust and that has a strong reputation in the skincare industry. This way, your product is bound to contain exactly what it states.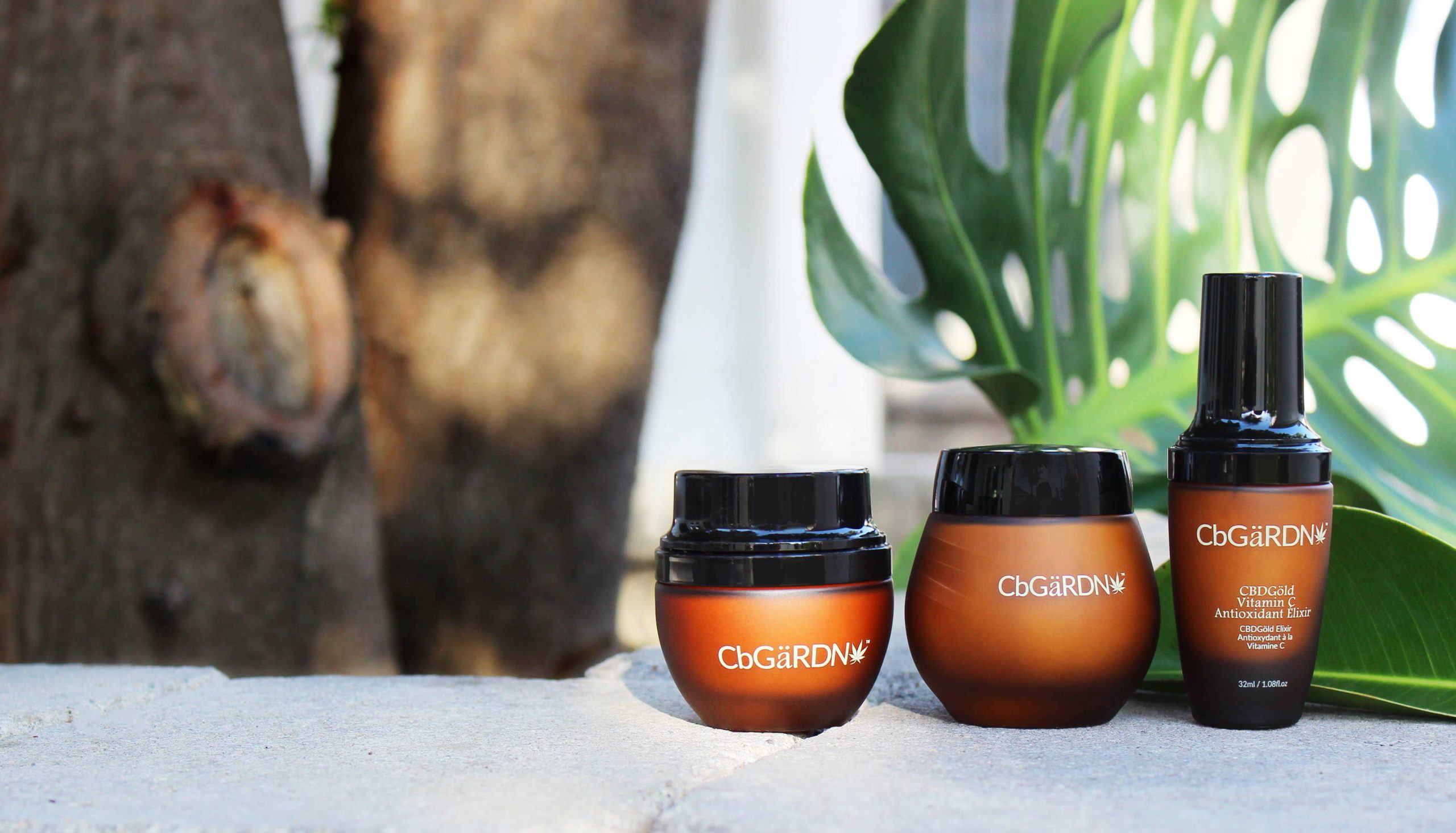 Elevate Your Beauty Routine with CBD Skincare
CBGärdN has an extensive line of CBD and Hemp infused skincare products. If you're intrigued by the skin-enhancing capabilities of CBD after this read, we recommend browsing through our bestsellers to experience CBD skincare at its finest!