Published: March 15, 2022
When interesting new skincare ingredients start making waves in the beauty industry, it's easy to become skeptical. There have been so many trends that just came and went, products that skyrocketed to the top shelves of beauty aisles only to have no staying power. In a world where social media motivates us to try every buzzy new ingredient that rolls along, it can be challenging to find skincare that is worth investing in.
CBD-infused skincare products have gained popularity over the years for their purported benefits. However, in a landscape fraught with fleeting fads, these beauty innovations prove to be well worth the attention and investment. Here, CBGardN discusses all the reasons why CBD products are good for your skin.
Breaking Down CBD Products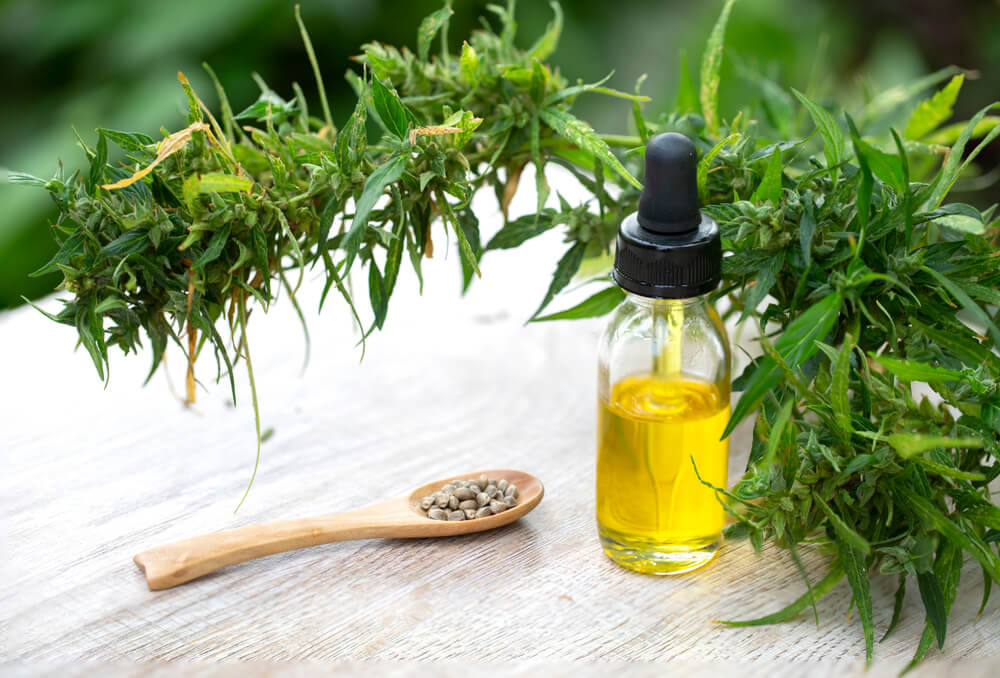 First thing's first, what exactly constitutes a CBD skincare product? Before we can dive into the reasons why CBD products are good for your skin, we must first explain what CBD stands for.
CBD is a shortened form of the word cannabidiol, which is one of the biggest active ingredients in cannabis. Cannabidiol is derived from flowers and leaves of the hemp plant — otherwise known as the Cannabis Sativa plant — or may also be produced artificially in a controlled laboratory setting. This is typically diluted in a carrier oil to produce Cannabis Sativa oil, otherwise known as CBD oil.
Confusion often arises when discussing cannabidiol and hemp, as these are keywords usually associated with medical marijuana. While cannabidiol is one of the ingredients in marijuana, it is only one among many of the drug's components. On its own or when applied topically, CBD does not cause a mind-altering high.
Despite the common misconceptions surrounding this ingredient, the World Health Organization reported that upon studying CBD, it exhibits no potential for abuse or dependence.  
We cannot discuss CBD skincare without making mention of hemp oil. Unlike CBD oil, hemp oil is produced from hemp seeds via cold-pressing. While CBD oil does not cause a high, it still has minimal amounts of THC or tetrahydrocannabinol, the psychoactive component of cannabis. Hemp oil, on the other hand, contains no THC at all.
CBD and hemp are central to the innovative skincare lines created here at CBGärdN. Our products target specific skin concerns and issues, utilizing the benefits of CBD to create effective beauty solutions that visibly improve your skin and transform its appearance through the passing seasons.
Why CBD Products Are Good for Your Skin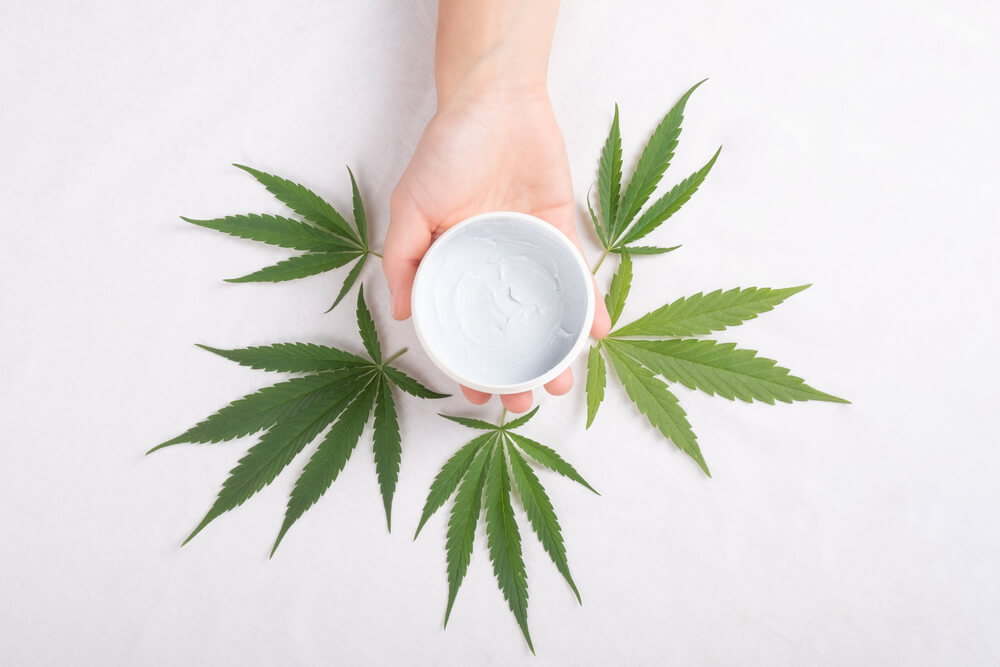 CBD would not be regarded as the wonder ingredient it is today if not for the slew of benefits it offers.
Let's take a look at the medical field. CBD oil is known to combat bad cholesterol, thanks to its abundant linoleic acid content. Omega-3 fatty acids, which are essential for holistic health, are also found in CBD. These fatty acids contribute to cardiovascular, circulatory, and immune system function. 
Furthermore, a review published in Frontiers in Pharmacology in 2018 reported that CBD shows great promise in relieving chronic pain. 
When it comes to skincare, CBD offers even more benefits. Here's why CBD products are good for your skin: 
Hydrating Properties
By now, you've likely heard countless health and fitness gurus stress the importance of staying hydrated. They say drinking eight glasses a day is ideal, but why exactly is drinking water so important?
Simply put, water keeps the body functioning at its best. It helps us regulate our body temperature, delivers necessary nutrients throughout the body, and keeps our vital organs in check. Water also contributes to the lubrication of our bones and joints.
Another significant function of water: keeping the skin feeling healthy. Dehydration not only makes the skin more vulnerable to external forces but may also lead to prolonged discomfort. Some symptoms of dehydrated skin include:
Loss of elasticity

Tightness and irritation

Leather-like skin texture

Dullness

Itchiness

Dark under-eyes

Sunken skin
Unsure whether these symptoms apply to you? One easy way to tell whether or not you have dry skin is by performing the skin pinch test. Take your skin between your fingers, pinching it lightly and carefully tugging it away from your body. If the skin bounces back immediately, you're likely in the safe zone. However, if there is a delay in your skin returning to normal, your skin could use a hydration boost.
The CBGold Cleansing Elixir Kit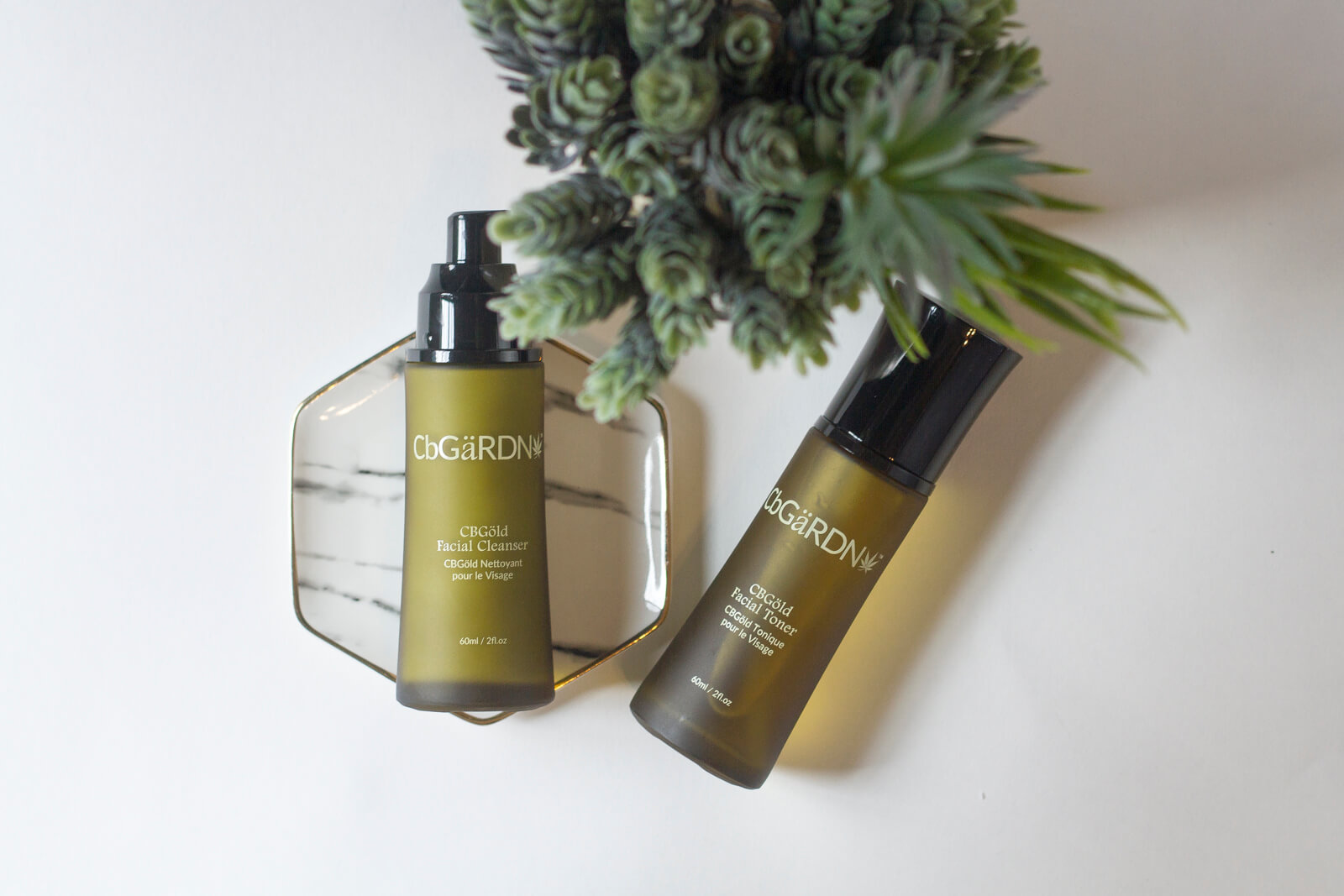 This is where CBGärdN's skin solutions come in. A testament to why CBD products are good for your skin, the dual-step CBGold Cleansing Elixir Kit consists of a gentle cleanser and facial toner, both of which are enriched with Cannabis Sativa oil. This ingredient gets its powerful hydrating properties from its omega 3, 6, and 9 content. 
In addition to CBD oil, the CBGold Cleansing Elixir Kit is formulated with a few other ingredients worth adding to your routine:
The first step in the kit, the CBGöld Facial Cleanser, contains glycerin. A natural moisturizer found in the skin, glycerin is very safe and gentle. In a comparative study conducted in 2016, glycerin was also deemed the best humectant in comparison with other cult-favorite ingredients like alpha hydroxy acids, hyaluronic acid, and propylene glycol. 
Despite being kind on the skin, glycerin is also effective at keeping the feeling of dryness at bay. It functions wonderfully even in concentrations as low as 3%.
A follow-up to the cleanser, the CBGöld Facial Toner is the second step in the CBGold Cleansing Elixir Kit. In addition to glycerin and Cannabis Sativa seed oil, this lightweight toner contains niacinamide and betaine.
Both products in the CBGold Cleansing Elixir Kit are free of harmful alcohols, fragrances, and essential oils. Deliberately made to be less sensitizing, these gentle formulas highlight all the reasons why CBD products are good for your skin.
CBDGöld Eye Serum Concentrate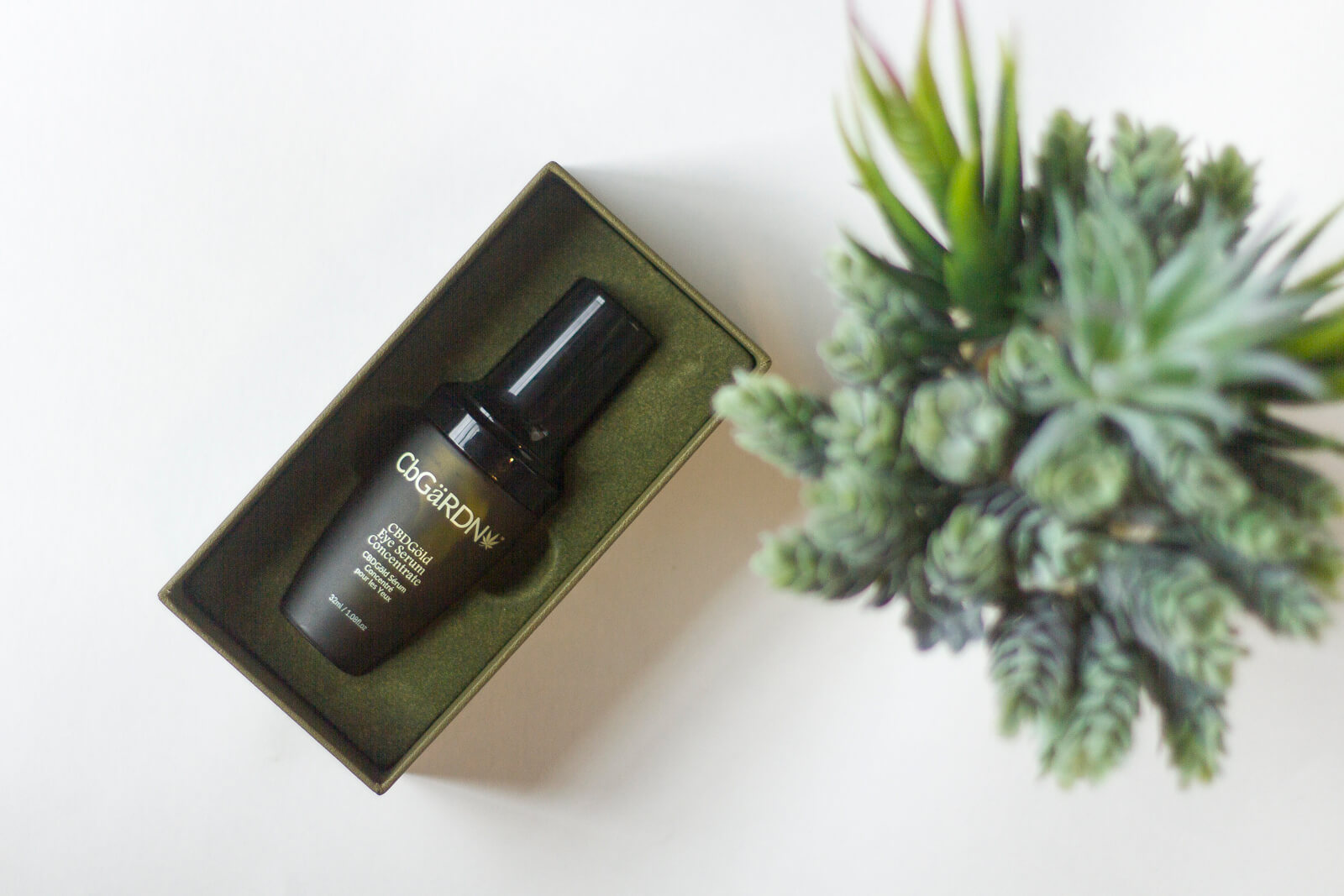 Another hydrating CBD skincare product to consider is the CBDGöld Eye Serum Concentrate. While the skin becomes more vulnerable with time and exposure to the elements, risks run particularly high when it comes to the eye area.
The skin surrounding the eyes is noticeably thinner than the rest of the face. Besides being more delicate, the eye area also has fewer sebaceous glands, making it more prone to the look of dryness and wrinkling. 
To combat this, the CBDGöld Eye Serum Concentrate delivers a surge of hydration to keep the eye area feeling bright and youthful. The formula combines Cannabis Sativa seed oil with vitamin C and green tea extract – exactly what your eye area needs.
Moisturizing Agent
In the world of beauty, there are quite a few terms that are wrongfully thrown around and used interchangeably. Our favorite example? Hydration and moisture.
Contrary to popular belief, hydration and moisture refer to two different characteristics of the skin. Both are necessary, both must be maintained with lifestyle choices and skincare, but at their core, they are not the same.
Here's the difference:
While hydration focuses on the skin's water content, moisture pertains to the skin's oils. Oil isn't a bad thing — it's essential. The skin needs oil, produced by the sebaceous glands, to prevent the feeling of dryness, itchiness, and flaking. Keeping the skin well-moisturized is also crucial for keeping the appearance of aging at bay.
As it turns out, CBD is great at providing the skin with both hydration and moisture — yet another reason why CBD products are good for your skin. 
While all CBGärdN skincare is infused with Cannabis Sativa oil or hemp oil, there are two that are especially great at sealing moisture into the skin:
CBGöld Bio-Restorative Crème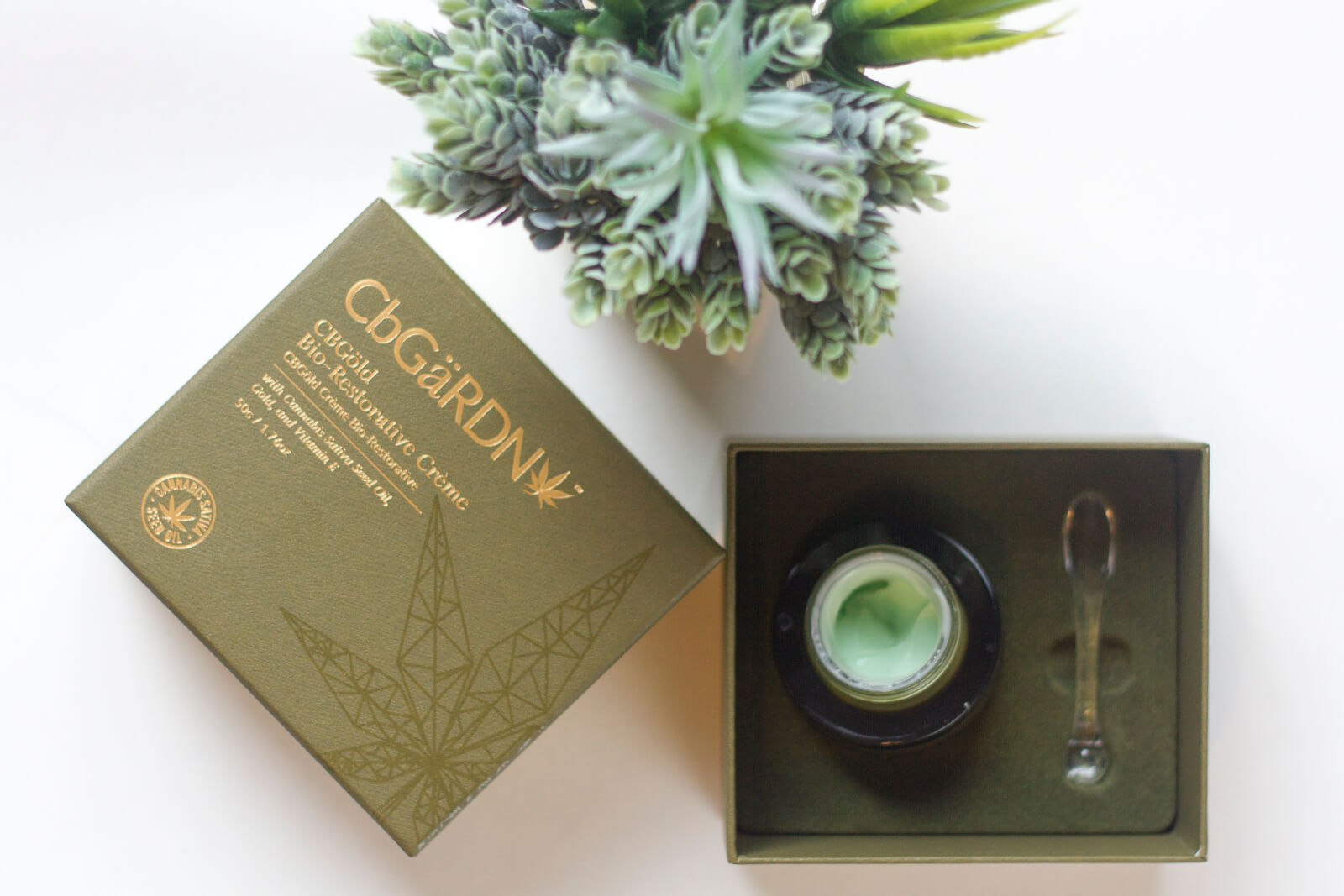 First up is the CBGöld Bio-Restorative Crème. An ideal daytime moisturizer, behind this face cream's light texture and velvety consistency is a treasure trove of deeply moisturizing ingredients. A few standouts include:
Together, these ingredients form a moisture-locking blend that sinks into the skin seamlessly — light enough to wear all day, yet rich enough to prevent the feeling of dryness.
CBGöld Night Renewing Crème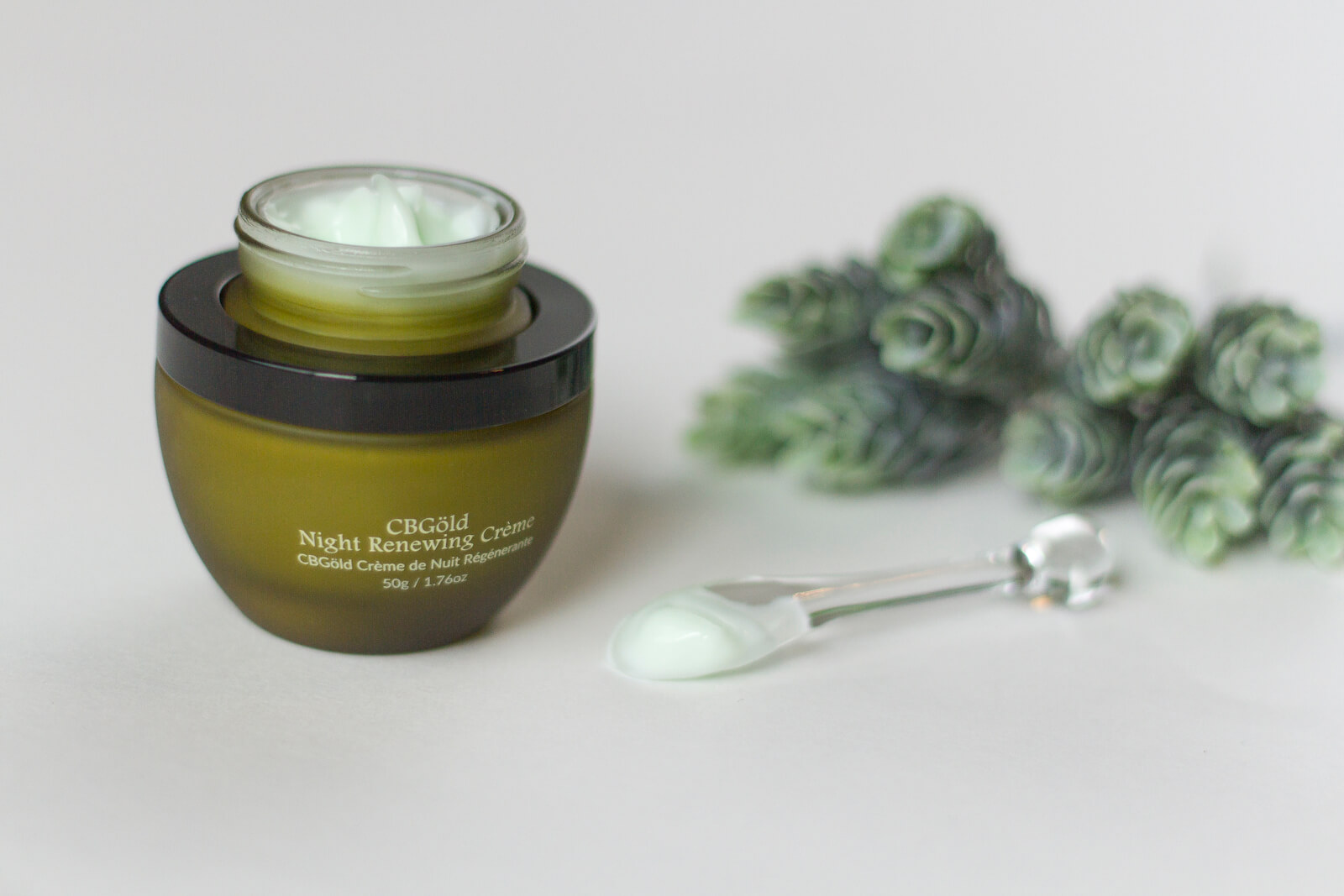 In the evening, your skin may benefit from an even more potent punch of moisture. The CBGöld Night Renewing Crème is a perfect candidate for the task. While its ingredient list bears noticeable similarities to the CBGöld Bio-Restorative Crème, the Night Renewing Crème boasts of a thicker, more enriching formulation.
Have you ever woken up with a dry, flaky appearance? This is caused by overnight moisture loss, a phenomenon that is especially common during the colder months. Applying a thick moisturizer like the CBGöld Bio-Restorative Crème as your final evening regimen step can help prevent this and lock in all the skincare products you applied prior. 
Gives the Skin a Youthful Look
Regardless of the products they put on their face or the treatments they subject their skin to, nobody is immune to the appearance of aging. The visibility of lines, wrinkles, puffiness, dullness, and sagging — these are all signs of aging that we will all have to deal with eventually. However, this is not to say that we cannot lean into aging gracefully. 
There are a few ways to slow down the appearance of aging and preserve the skin's youthful glow for longer. But to understand how to address these signs of aging, we must first identify the factors that contribute to their appearance:
Environmental factors, such as strong wind, smoke, and pollution

Dryness

Facial muscle exhaustion, caused by making large or repeated facial expressions

Loss of elasticity
Taking all these factors into consideration, we at CBGärdN highlight yet another reason why CBD products are good for your skin: they're great for giving the skin a smoother and younger-looking appearance. 
CBDGöld Anti-Wrinkle Confidence Solution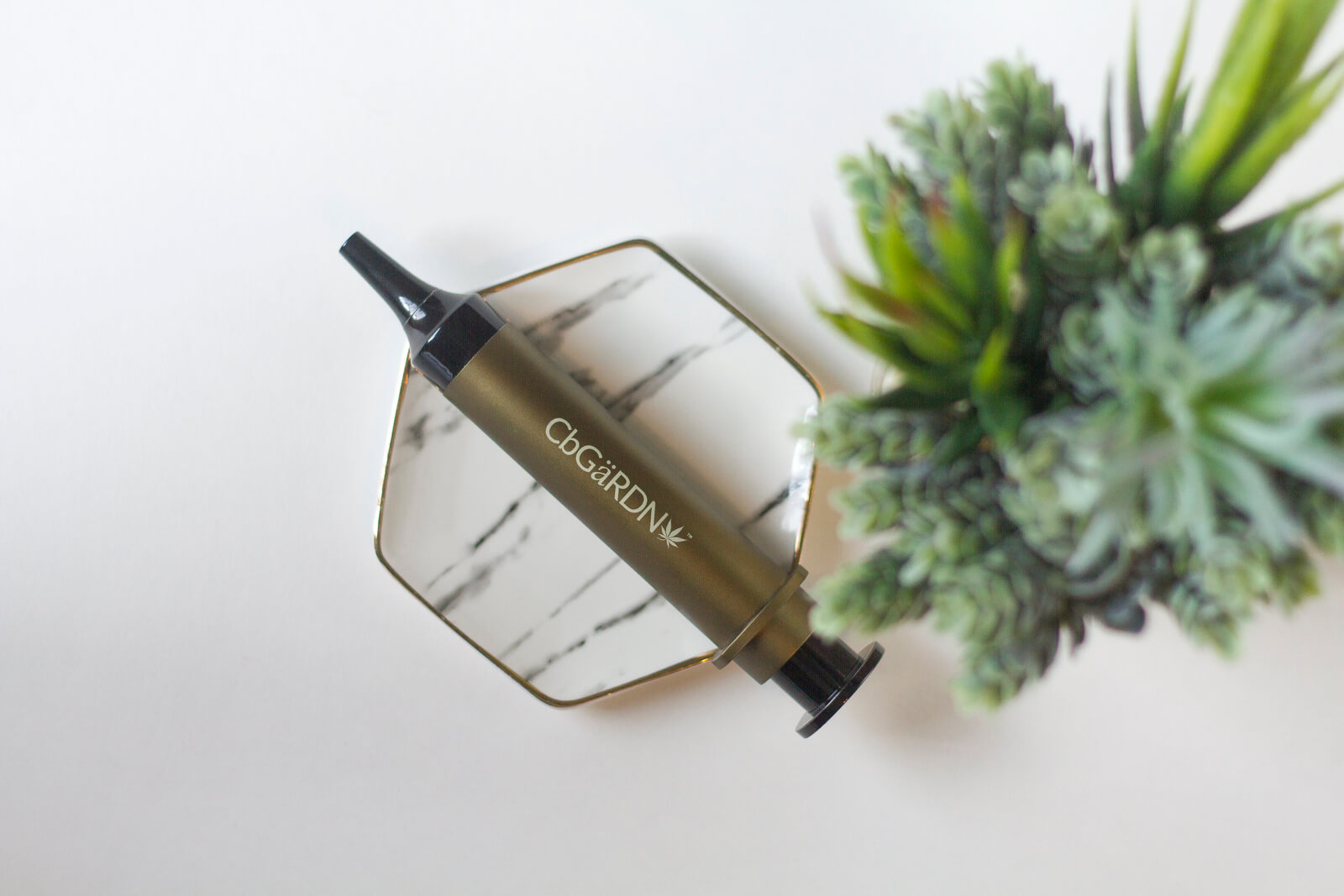 Get the most of CBD's age-defying properties with the CBDGöld Anti-Wrinkle Confidence Solution. Harnessing the linoleic and oleic acids found in Cannabis Sativa seed oil, this product instantly reduces the appearance of wrinkles and fine lines.
The formula, encapsulated in a precise, syringe-like tube, also contains vitamin A and moisturizing sweet almond oil. The result: a smoother, tighter, and plumper look. 
Summary
Now that you know all the reasons why CBD products are good for your skin, are you ready to make the switch to hemp and CBD-infused skin solutions? Discover more CBGärdN bestsellers online.