Published: September 30, 2022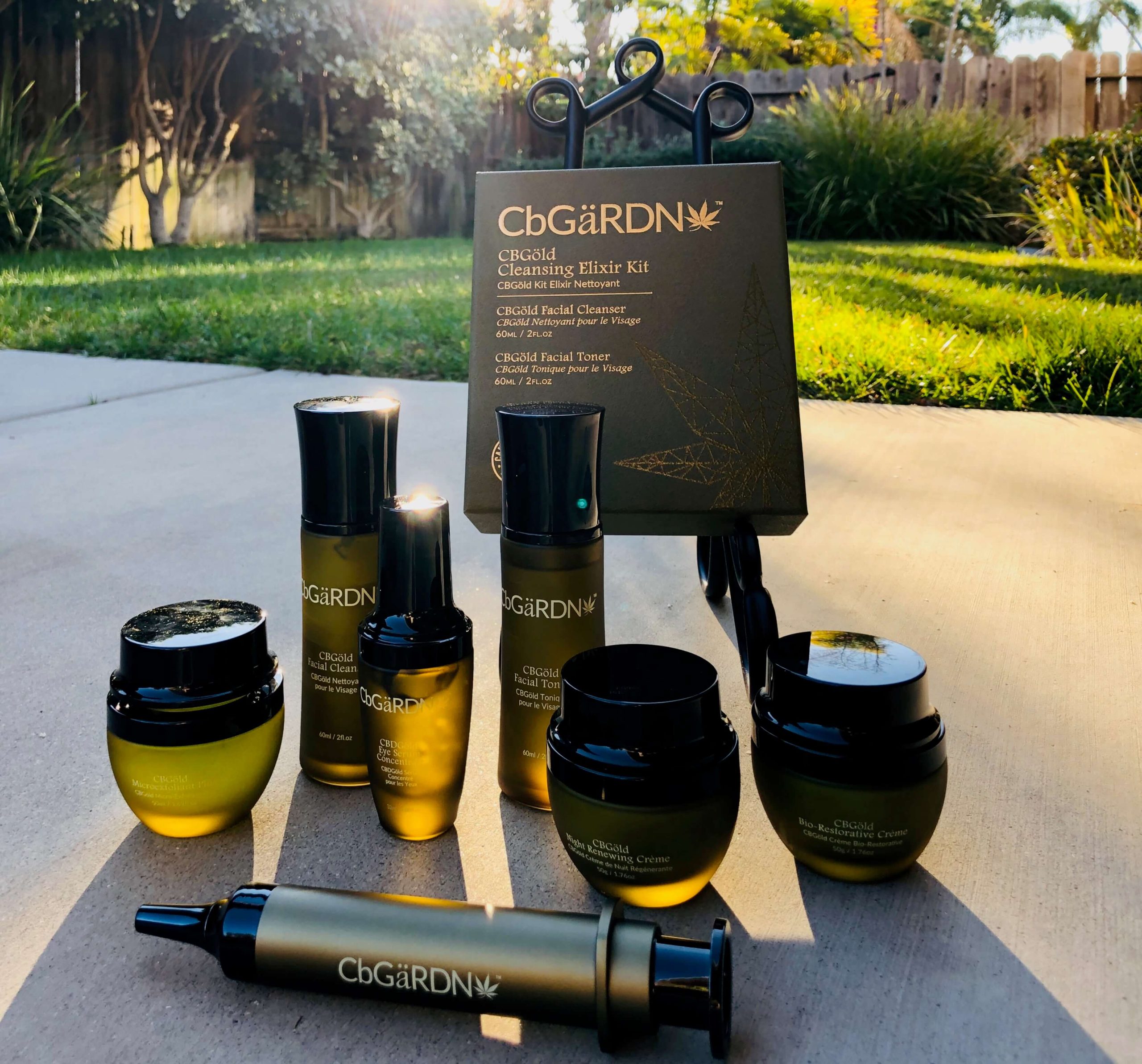 Since the beginning of time, people have used the earth and sea's bounteous gifts for not only medicinal but cosmetic benefits as well. Botanicals like aloe vera, green tea, ginkgo, and rosemary have stood the test of time.
But, as of late, new plant-based ingredients have stirred up talk in the skincare world — hemp and CBD. These two well-received botanicals are derived from the Cannabis Sativa plant and deliver exemplary results to enhance your skin. If you want these superstars in your skincare routine, we're about to take you behind the scenes of our CBGöld Basic Collection.
The CBGärdN brand is all about taking care of your skin's needs the natural way. We incorporate research-backed ingredients in all of our formulas to give you the results you've always been looking for! 
Let's see what the CBGöld Basic Collection includes and how each product can benefit your complexion:
The CBGöld Basic Collection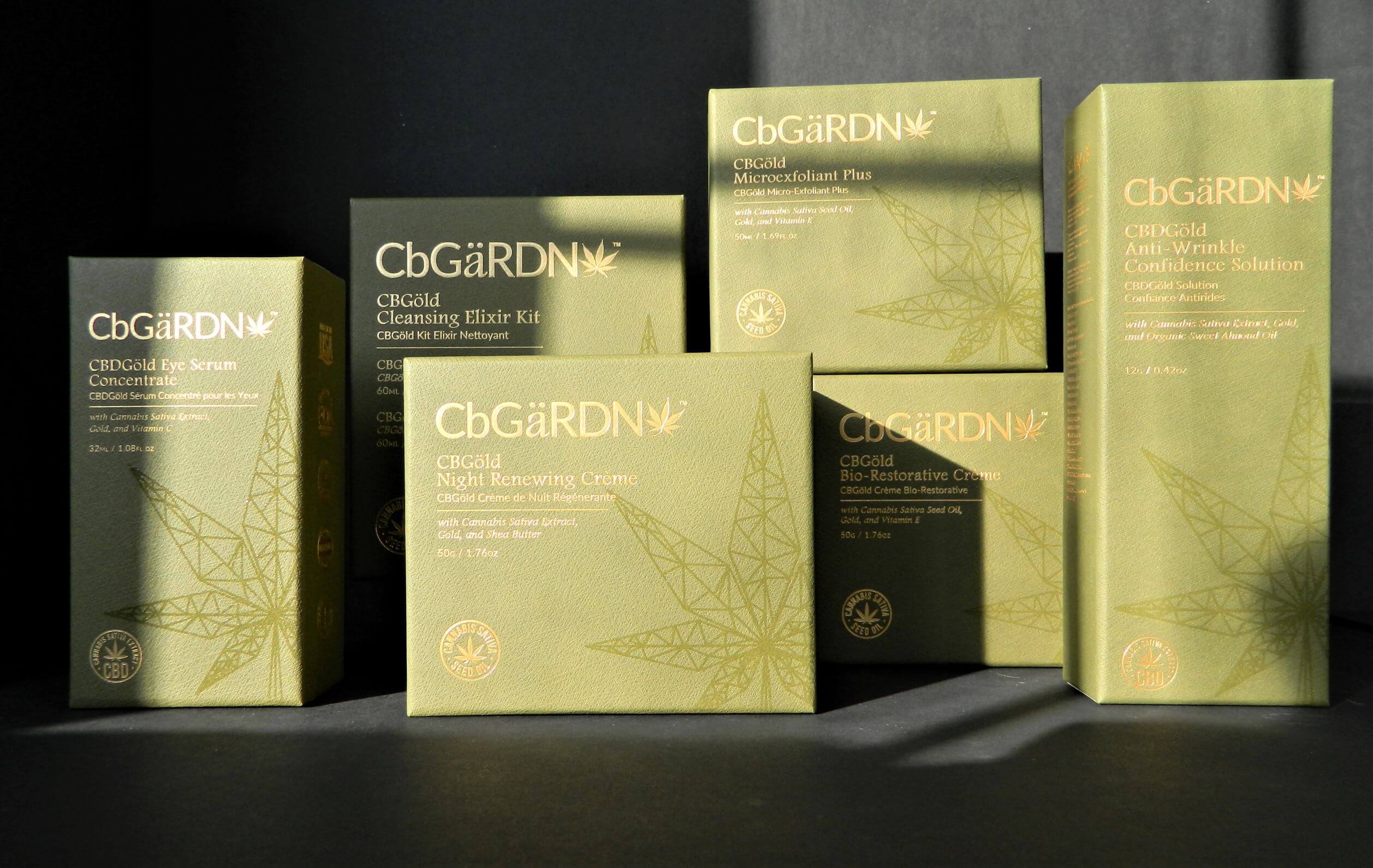 Our CBGöld Basic Collection has been widely influenced by CBD and hemp. Although the two have the same origins, they're actually quite different.
CBD (Cannabidiol) is taken from the leaves, stems, and flowers of the Cannabis Sativa plant. CBD delivers benefits like diminishing the visible signs of aging, regulating how oily the skin feels, and improving the look of the delicate eye area.
Hemp, on the other hand, is extracted from the seeds of the same plant. It has little to no CBD but it offers similar benefits. The one primary difference is that hemp is more suited for dry, sensitive skin while CBD benefits acne-prone, oily skin types.
The CBGöld Basic Collection focuses on rejuvenating the look and feel of your skin completely with these two essential ingredients. Here are the products included:
CBDGöld Eye Serum Concentrate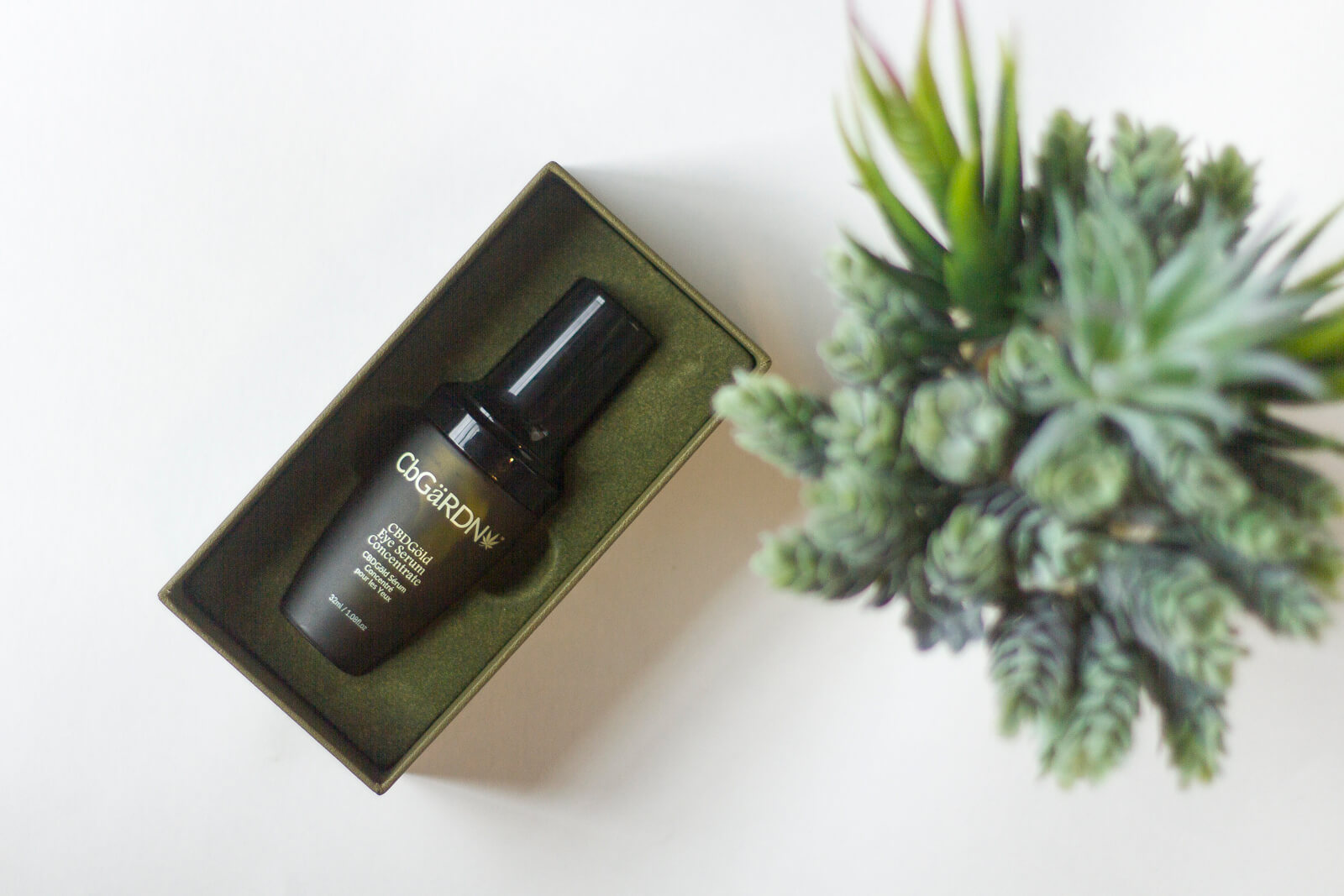 Eye care is an important step in every skincare routine. If you want your eye area to glow and look refreshed, you need a dedicated eye solution. These are specifically designed formulas to handle the skin concerns around your eyes gently but effectively.
If you're someone who has a lot of trouble with the look of darkened skin, puffiness, and wrinkles around your eyes, have you given our CBDGöld Eye Serum Concentrate a try?
This miraculous formula makes use of the many benefits of CBD to help relieve dryness around your eyes and make the skin here appear youthful. CBD is known to help fade the look of dark circles under your eyes; thus, brightening your appearance and making you glow!
This cutting-edge blend also incorporates real gold to reduce the appearance of darkened under-eye bags and rekindle your youthful glow. Gold is known to brighten up your skin's look, ease the visibility of wrinkling, and cleanse your skin. But that's not all there is to our eye serum concentrate…
What Else is in it?
The formula infuses palmitoyl tripeptide-1 and palmitoyl tetrapeptide-7 — two powerful peptides rich in amino acids to give you a younger appearance. To take care of dryness around your eyes, we've added sodium hyaluronate too. It elevates your skin's moisture levels and promotes moisture retention.
But we can't have a good eye serum formula without some vitamin C, can we? Vitamin C helps to hydrate your under-eye area, brighten up the look of your skin, and reduce the visibility of fine lines and wrinkles.
Now, let's talk about the organic botanicals that we've incorporated into our CBDGöld Eye Serum Concentrate:
Pot Marigold Flower Extract — This extract is laden with nutrients that are highly effective at reducing the appearance of damage around your eyes.
Green Tea Leaf Extract — We all love green tea for the many ways in which it benefits our bodies. But its use extends to the skincare world. Its extract is considered a miracle ingredient to enhance your skin's hydration levels and fade the visibility of puffiness.
Kudzu Root Extract — Kudzu root is considered a savior for dry, rough, and irritated skin. It contains a wide range of phytochemicals that work to ease the visible signs of aging, including the appearance of dark circles, puffiness, dull skin, and wrinkles.
Aloe Vera Leaf Extract — Aloe vera is widely known as one of nature's most valued skincare ingredients. It contains vitamins A and C as well as skin-enhancing enzymes to diminish the visibility of aging and discoloration.
Ginkgo Leaf Extract — This extract is known to contain natural plant flavonoids that work to reduce the look of damaged skin. It works wonderfully to deliver a youthful and refreshed look around your eyes.
Grape Cell Extract —This extract is ideal for fading the look of aging around your eyes.
How to Use
The best way to use this eye serum from our CBGöld Basic Collection is to apply it to cleansed skin every morning and evening. Take a pea-sized amount onto your ring finger (one gentle pump). Then, carefully dab around your eyes in a clockwise motion until the formula is absorbed.
CBDGöld Timeless Age-Defying Syringe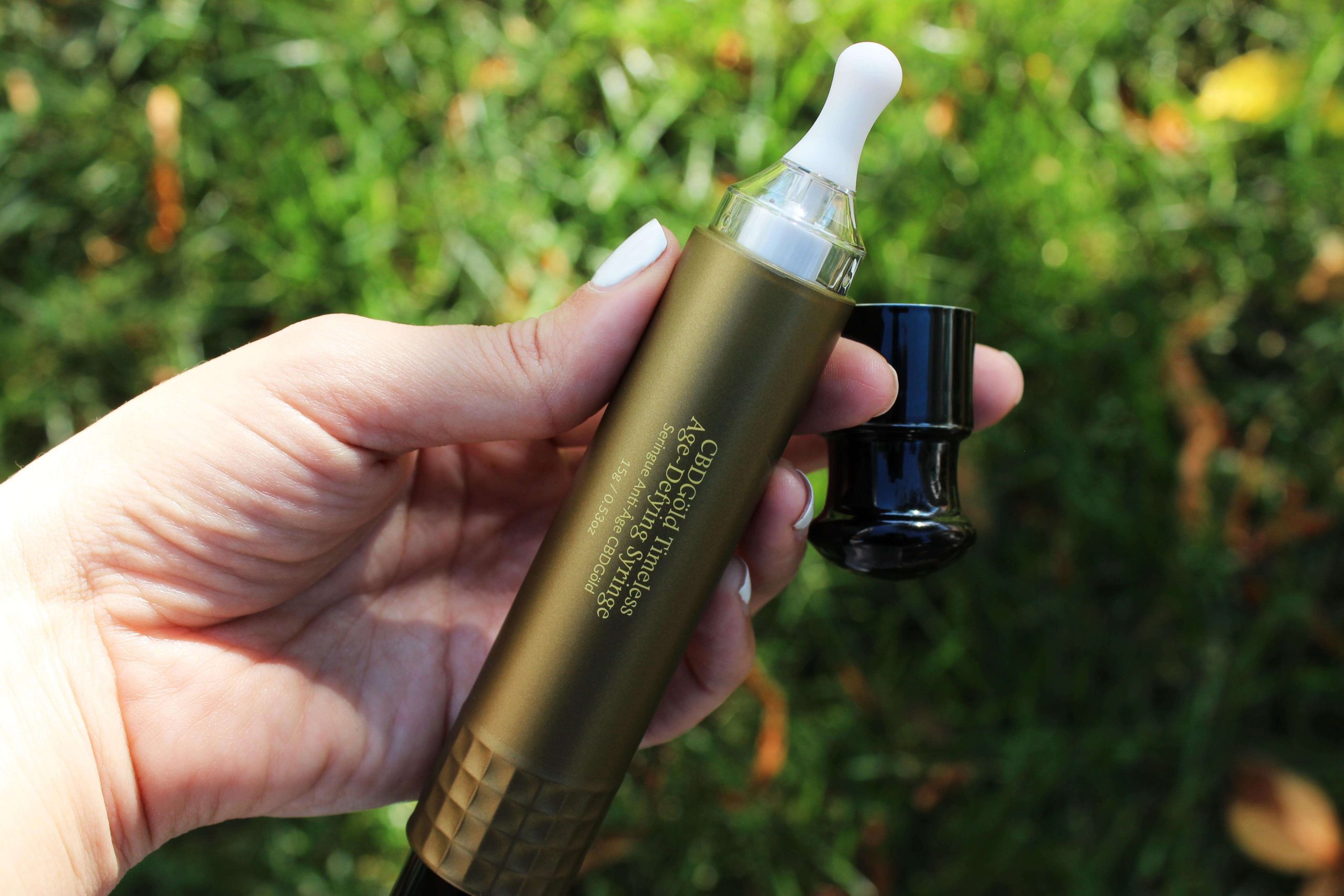 Our CBGöld Basic Collection highlights the properties of the Cannabis Sativa plant to help reduce the visible signs of aging and the appearance of acne scars. Although aging is inevitable, there are ways to delay its visible effects on your face. And that's what our collection is all about.
The CBDGöld Timeless Age-Defying Syringe is all your skincare routine needs to deliver a healthy and glowing look. Powered by real gold and cannabis seed extract, this exceptional formula can help ease the look of aging on your skin, including the appearance of fine lines, dark spots, wrinkles, and dullness. But what does it include?
What's in it?
This lightweight formula infuses avocado oil and sweet almond oil to pamper dry skin. These two oils play a key role in maintaining your skin's healthy appearance.
The formula also incorporates derivatives of vitamins A and E to help diminish the look of aging. Vitamins A and E combined can have synergistic effects for reducing the look of damage caused by harsh UV rays. They not only give you younger-looking skin but also help with its maintenance.
Our CBDGöld Timeless Age-Defying Syringe also makes use of sodium hyaluronate and acetyl hexapeptide-8 to give your skin a deep hydrating treatment. These two are very important skincare ingredients when you're concerned about the look of aging.
We can't have any skincare formula complete without our signature organic botanicals. With the power of cucumber fruit and grape seed extracts, this formula promises to make your skin look lifted, firm, and even-toned!
How to Use
To use the syringe, press the bottom and apply the formula directly onto your wrinkles and fine lines. Be sure to cleanse and tone your skin properly before using it. And what better way to do so than with the next cleansing duo in our CBGöld Basic Collection?
CBGöld Cleansing Elixir Kit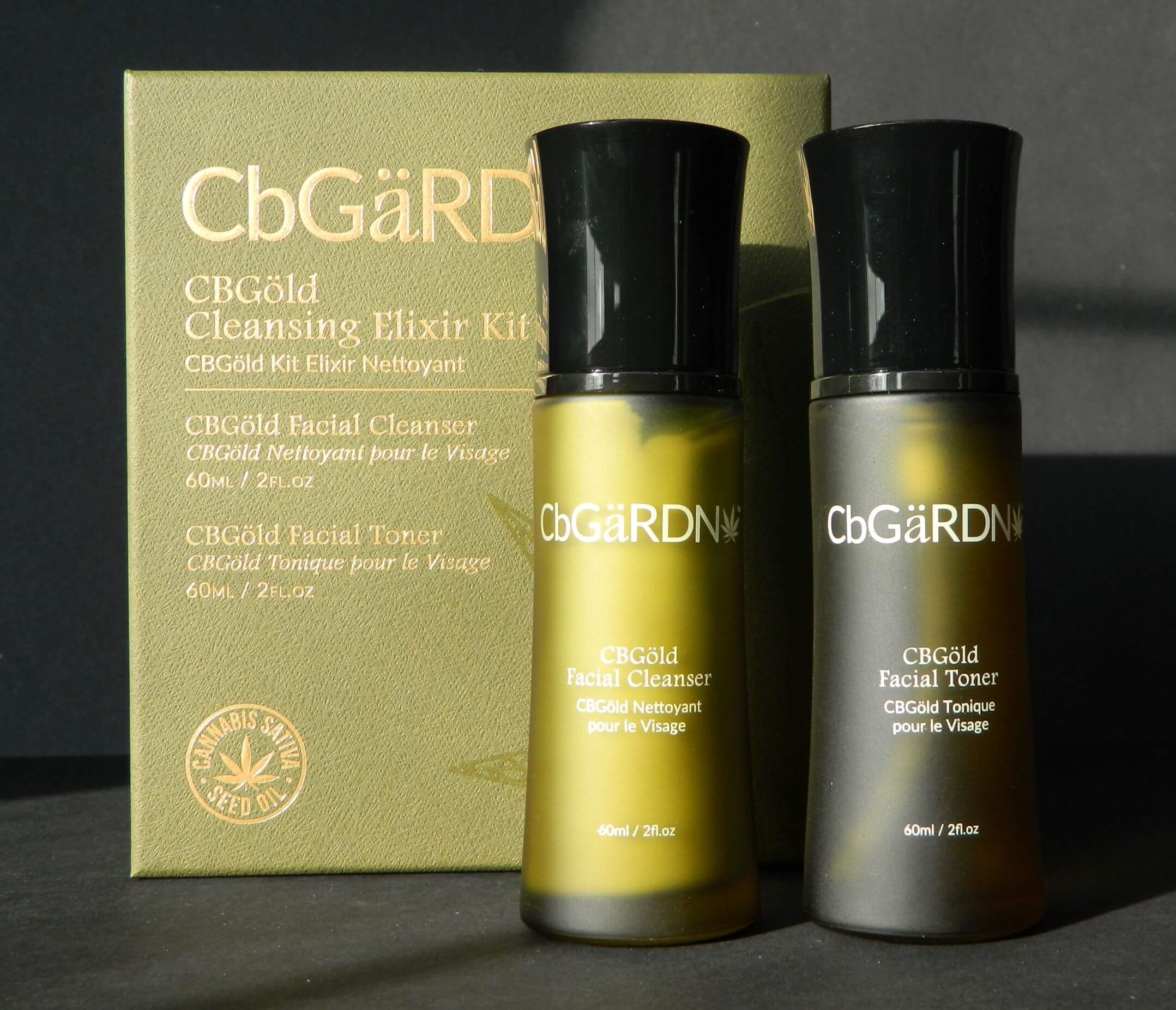 Your skin can harbor a lot of harmful particles from your environment, including makeup residue, dust, pollutants, and dirt. To make sure these particles don't cause long-term damage to your skin, you need to have a go-to cleansing formula in your daily skincare regimen to clarify your face. Following it up with a good toner can help you balance the feel of your skin and also clean up any leftover makeup or dirt particles.
We've got the best duo to help you get these results and more! Our CBGöld Cleansing Elixir Kit delivers the benefits of Cannabis Sativa seed oil to help control how oily the skin feels and diminish the look of breakouts. 
CBGöld Facial Cleanser
The kit includes our CBGöld Facial Cleanser, which is formulated with rich nutrients and fatty acids to enhance your skin's appearance. It incorporates two effective oils for your skin — mineral oil and hydrogenated castor oil — to ensure that your skin appears healthy and fresh.
The formula also boasts glycerin, one of the best-known moisturizers for your skin. So, you can rest assured that your skin will feel smooth and supple after every use. The gentle formula is meticulously designed to cleanse your skin without causing dryness. Use it every day to maintain a healthy and radiant complexion.
CBGöld Facial Toner
Our advanced cleansing kit wouldn't be complete without an effective toner. The CBGöld Facial Toner is formulated to suit all skin types. It incorporates rich ingredients, including hyaluronic acid and niacinamide. These two are ideal for helping your skin retain moisture and appear soft and supple.
It also contains hydrogenated castor oil to help reinforce your skin's natural moisture barrier. Experience a balanced, hydrated, and firmer-looking complexion with this powerful formula. 
How to Use the Kit
Begin with our CBGöld Facial Cleanser by applying a small amount onto damp skin. Massage it into a foam and continue for one minute. Rinse with warm water and pat your skin dry.
Immediately afterward, take a cotton ball and apply the CBGöld Facial Toner to your face and neck. Don't get close to your eye area.
CBGöld Bio-Restorative Crème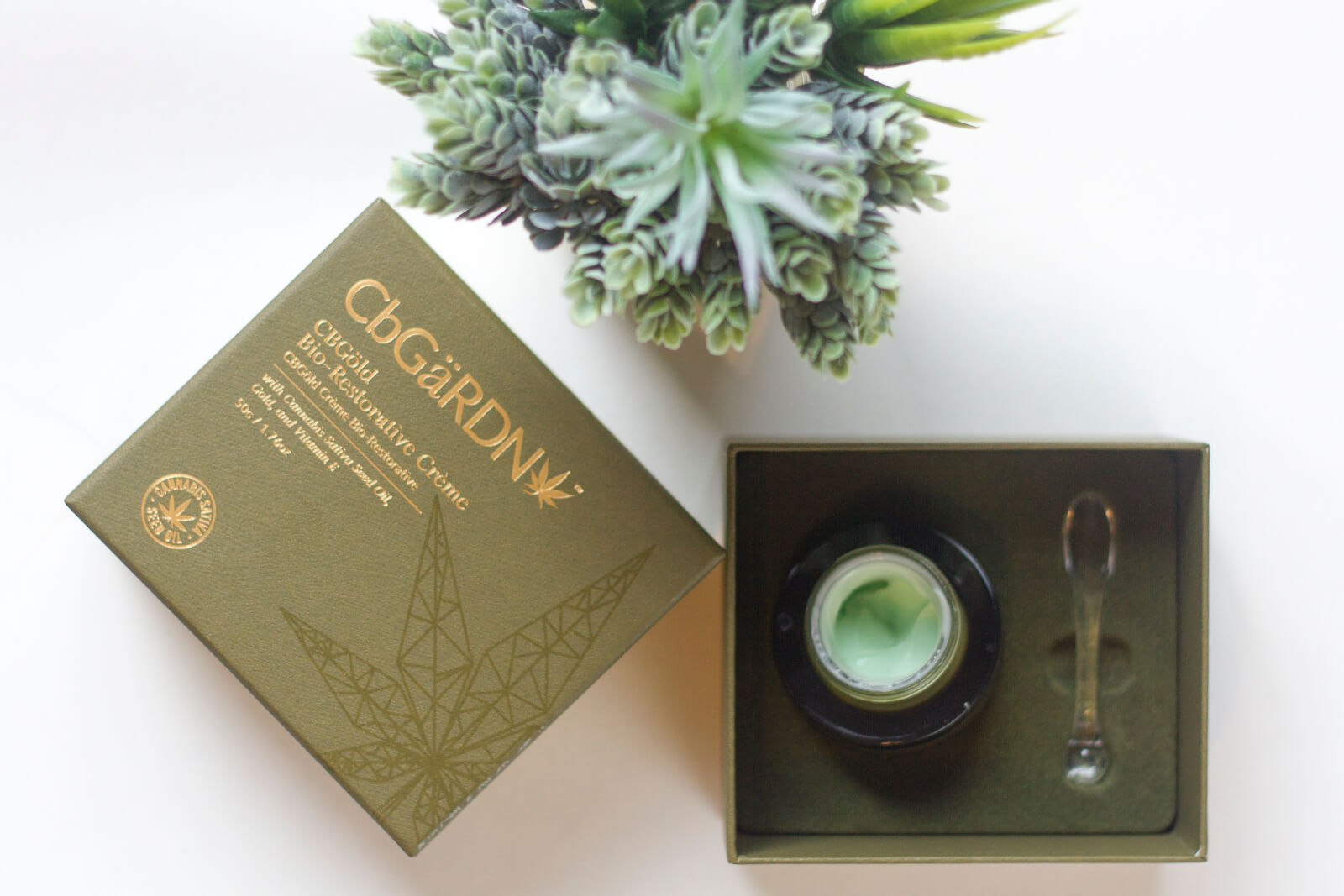 Another great product in the CBGöld Basic Collection is our CBGöld Bio-Restorative Crème. The formula is rich yet lightweight — perfect for keeping your skin hydrated and looking plumper than ever before.
What's in it?
This velvety cream is powered by Cannabis Sativa seed oil to restore your skin's natural glow! It also contains vitamin E acetate to effectively reduce the appearance of acne scars on your skin.
We've also added sunflower seed oil and shea butter to help improve your skin's moisture levels and keep it feeling soft and supple.
How to Use
We recommend using the CBGöld Bio-Restorative Crème on freshly-cleansed skin. Take a small amount and massage it into your skin in gentle upward motions until it's properly absorbed.
CBGöld Microexfoliant Plus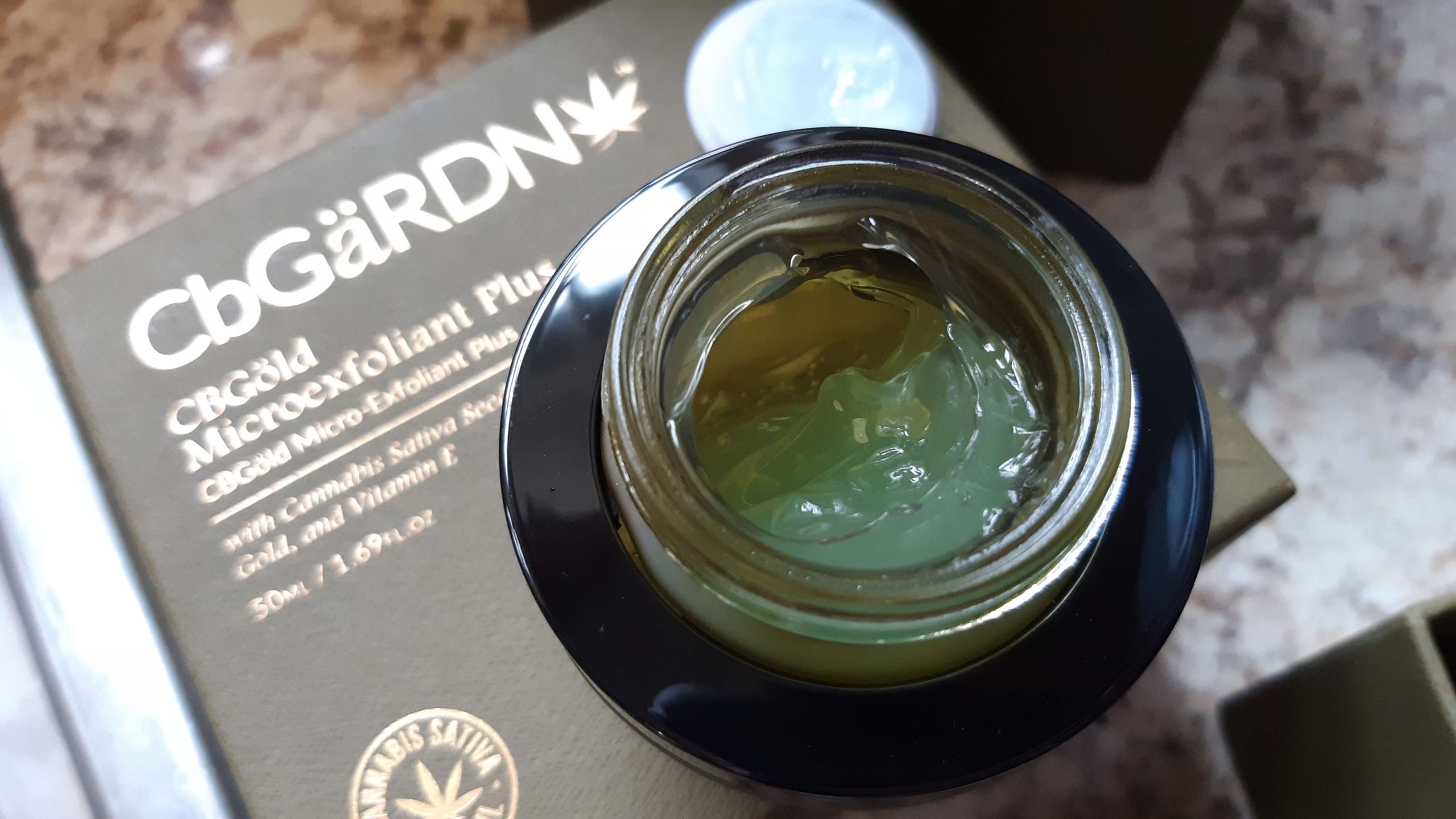 The CBGöld Microexfoliant Plus is a gentle gel-based formula designed to exfoliate and clarify your skin. It effectively gets rid of unwanted impurities from your pores, leaving you with fresher and smoother-looking skin.
What's in it?
Our exfoliant includes glycerin and 1,2-hexanediol. Both ingredients are moisture-binding humectants. This way, our hemp-infused exfoliating blend will not leave your skin dry. It removes the top layer of dead cells from your face while retaining your skin's moisture levels.
How to Use
Apply a small amount onto your cleansed face. Massage it in circular motions for 30 seconds and rinse with cool water. Use it 1-2 times a week and follow up with our Bio-Restorative Crème.
CBGöld Night Renewing Crème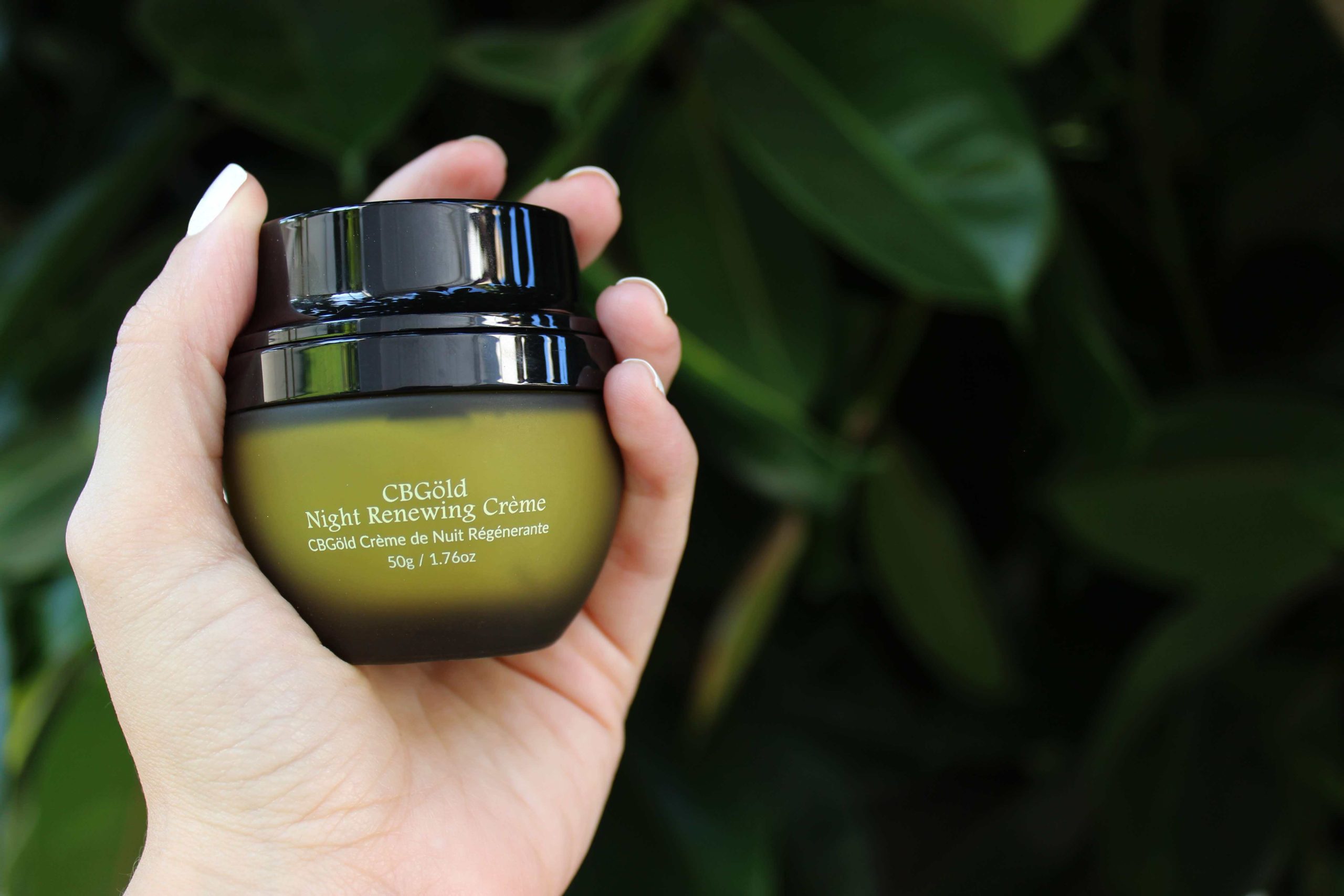 An effective nighttime cream can help your skin in many wonderful ways. Our CBGöld Night Renewing Crème is just what you need to enhance the look of dry, dull skin.
What's in it?
This cream incorporates rich botanical extracts, including Cannabis Sativa seed oil, to leave you with smooth-looking, refreshed skin!
With the combined benefits of shea butter and sunflower seed oil, this cream will keep your skin hydrated all night long. These ingredients also diminish the look of aging and hyperpigmentation. Witness a rejuvenated look with glowing skin when using our CBGöld Night Renewing Crème.
How to Use
Apply this cream every night before going to sleep. Spread a small amount over your face and neck and massage until the cream is absorbed.
Witness a Reformed Look with the CBGöld Basic Collection!
We've given you the complete inside look into our CBGöld Basic Collection. We're confident that this set of products is all you need to maintain healthy-looking skin! Once you try our hemp and CBD-infused skincare, you won't look back!
Click here to browse more of our bestselling hemp and CBD-inspired skincare formulas.