Published: January 30, 2022
Several times a year, we catch wind of new trends that rise to the surface to command the world's attention. Pay close attention and you'll find that such trends are present not only in the fast-paced worlds of fashion and technology, but in every facet of our lives, including the circles of wellness and self-care.
We had the rise and resurgence of essential oils, the popularity of reiki energy healing, and at-home beauty devices. In the last year, a new trend has come to light with a little help from good old social media: bathscaping. Join us at CBGardN as we explain more about this ultra-relaxing trend.
What is Bathscaping?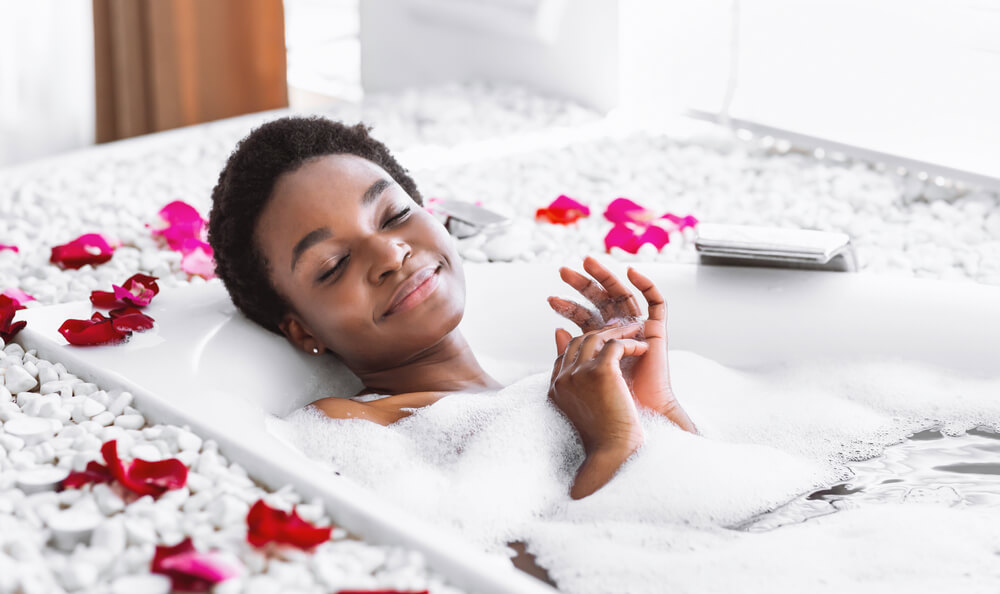 The Oxford dictionary defines landscaping as the process of making a yard, or any other piece of land, more attractive by altering its features and design. Tablescaping applies that same logic to the expanse of a table. Bathscaping, in the same way, pertains to curating and editing the areas surrounding your bathtub. The goal? To turn it into a picturesque self-care sanctuary.
One might wonder what exactly drives a trend like bathscaping. How could decorating the bathroom — and for many, sharing photos of it online — snowball into a full-blown trend?
While hygiene is a necessary fixture in our lives, the true driver behind the success of bathscaping goes beyond our need to keep clean. It lies in the calming capacity of baths. 
The onslaught of the pandemic was a period punctuated by shock and fear. People across the globe were cautioned to stay indoors, limit their interactions, and recalibrate their lives — all of which can be extremely stressful. These trying times spelled success for businesses that focused on keeping calm, staying sane, and protecting one's peace. This eventually brought about the bathscaping trend.
As the world shut down and businesses plummeted in 2020, the bath and shower product industry saw growth. According to Fortune Business Insights, the yearly growth of the market increased by 4.6% in 2020 compared to 2017 to 2019. Last year, the bath and shower product market was valued at 44.78 billion USD. That figure is expected to soar to up to 63 billion USD by the year 2028.
These numbers tell us that trends like bathscaping are not going anywhere. 
A Brief History of Baths
A quick skim through history tells us that the perception and purpose of baths varied drastically depending on place and era. Some of the ways baths were perceived throughout history include:
In the Egyptian times, water from ancient rivers was used for both hygiene and cosmetic purposes. 

In the Roman era, baths saw a breakthrough with the construction of bathhouses. These were a quintessential structure in Roman towns. In these structures,

thermal baths

became a widespread experience, being used for relaxation, exercise, and socializing with others.

Around 700 A.D, public bathhouses remained hubs for socialization, serving as a hotspot for parties. 

In the Nara period, Japanese Buddhist temples housed

Yuya

(which literally translates to "hot water shop") where priests could take healing steam baths. As they transitioned into the Kamakura period, the sick began to gain access to these bathhouses.

While countries in the East held on to bathing as a healing tradition, the Western world remained afraid of water due to the outbreak of

the bubonic plague

. Through time, this perception improved slowly but surely.

By the 1860s

, sanitation began to become a public concern, and bathing as we know it today became more mainstream. 
Despite the constant shifts in the way baths were regarded, history tells us that bathing is a practice that has been around for centuries. Despite some portions of the world taking time to recognize it, baths not only help do away with dirt and bacteria, but help facilitate relaxation and healing too. Practices like bathscaping help us further enrich the bathing experience.
How to Start Bathscaping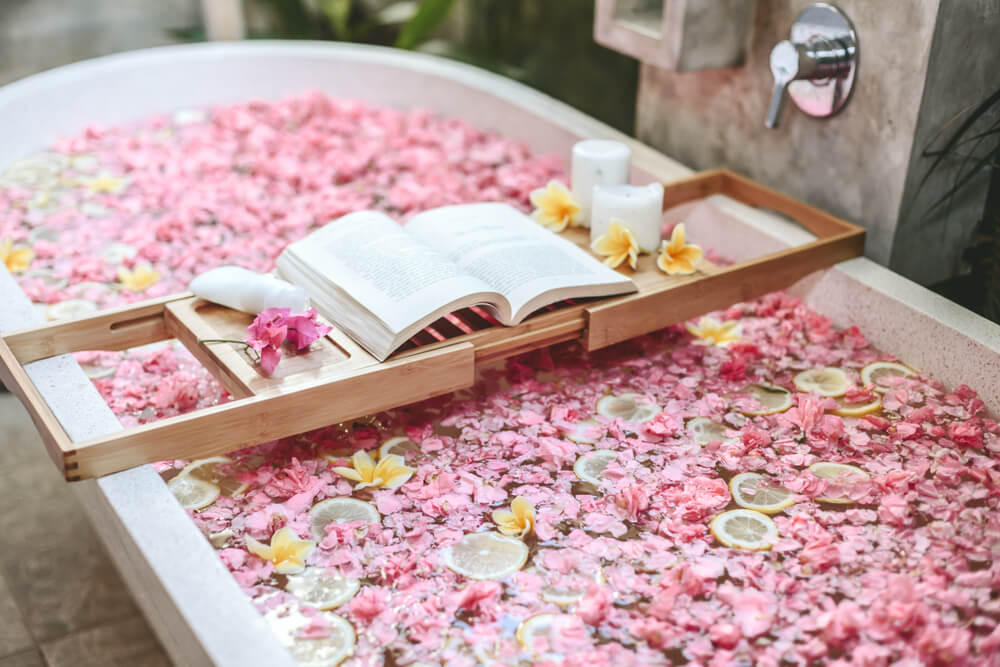 Bathscaping is one of the most customizable wellness trends because it isn't tied to a particular product or brand. Your personal preferences and budget can dictate how your bath area will transform. The best thing about bathscaping is arguably that you can take your time with it, figuring out the process and reveling in it as you go along.
Ready to plunge into the world of bathscaping? Here are a few tips to get you started:
Build a Moodboard
It can be challenging to start a project with a completely blank canvas. However, the beauty of bathscaping is that it is a popular trend with a major social media footprint. This means you have more than enough references to draw inspiration from.
To get started, start your search for inspiration online. Take to image-heavy platforms, like Pinterest and Instagram, and search for relevant keywords. "Bathscaping," "bathtub," or "bathroom inspo" are a few great starting points. You can also conduct a more precise search catering to certain themes you already know you like. For instance, if you're a fan of pops of color, minimalism, or industrial-esque interiors, you can include those in your search.
If you have no such preferences just yet, take your time scrolling through images and gathering the ones that you like. Each platform has its own convenient ways to help you do this. Pinterest allows you to save images in designated boards, while Instagram has a bookmarking feature. 
Once you have a collection of photos you like, it can serve as your moodboard. Study the photos you've gathered and try to identify any common themes that run across your references. This quick exercise can help you understand your tastes better, and give you a concrete way to start your bathscaping process.
Identify a Color Palette
One of the most prominent trends you'll likely come across in your moodboard is a key color palette. While it can be difficult to put a name on different design influences, color is one of the easiest design features to understand.
Map out your color palette by following these easy steps:
Take a good look at the photos you've gathered and identify the most common color. It should be easy to spot, and is typically a neutral color like white, cream, brown, or black. This can serve as your primary color.

Look for the color that appears with the second highest frequency. This will be your secondary or complementary color. 

Identify one or two accent colors by checking your reference photos for pops of color that add a little extra vibrancy to the space. In order for your bathscaping palette to be cohesive, it would be a good idea to select accent colors that look good together.
Doing this will give you at least three colors to build your bathscape with. Use them as a guide in searching and shopping for items that you will use in your space. 
Invest in the Essentials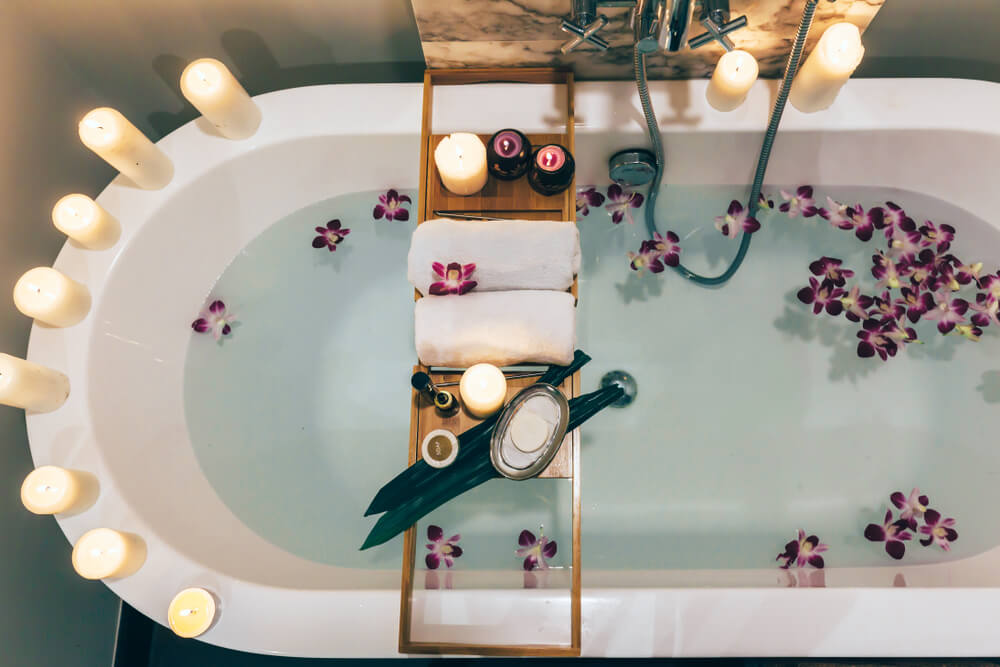 As with all trends, there are certain key elements that go hand-in-hand with bathscaping. Here are a few examples that many budding bathscapers gravitate towards:
A bath tray or bath board.

A piece of wood, metal, or plastic that runs horizontally across the length of the tub. Bath trays or boards securely rest on the edges of the tub, giving you real estate to rest your phone, a glass of wine, or even your tablet so you can binge-watch your favorite shows in peace.

Scented candles.

Speaking of peace, scented candles can help brighten up the atmosphere of any room in the house. When used in bathscaping, they can help facilitate an ideal mood for relaxation. When choosing candles, be sure to opt for ones that come in jars to minimize mess!

Bathroom plants.

Last but not least, plants are an easy way to spruce up any space. Even better,

greenery can help us decompress

while they

purify the air.
These are just the most common bathscaping staples. As you begin to develop your own bathscape, you can explore even more design elements, such as printed towels, rugs, and decorative fixtures.
Build Your Bathcare Inventory
While bathscaping sets the scene for your baths, there are ways to improve the quality and enjoyment of your daily tub dips. Building up a collection of bathcare products, like shampoos, conditioners, bath salts, and soaps, can help make a bath all the more relaxing.
What Comes Next: Elevate Your Experience 
After completing your bathscaping process, you can finally settle down and enjoy some well-deserved rest and relaxation. But what comes after?
Post-bath practices are just as important in driving home that holistic self-care experience. After stepping out of the bath, pamper your skin with a simple yet effective beauty regimen.
Consider CBGäRDN's CBDGöld Collection Kit. A three-step routine consisting of premium ingredients, this line of CBD and hemp-infused products is the perfect follow-up to a soothing bath.
The CBDGöld Imperial Transforming Masque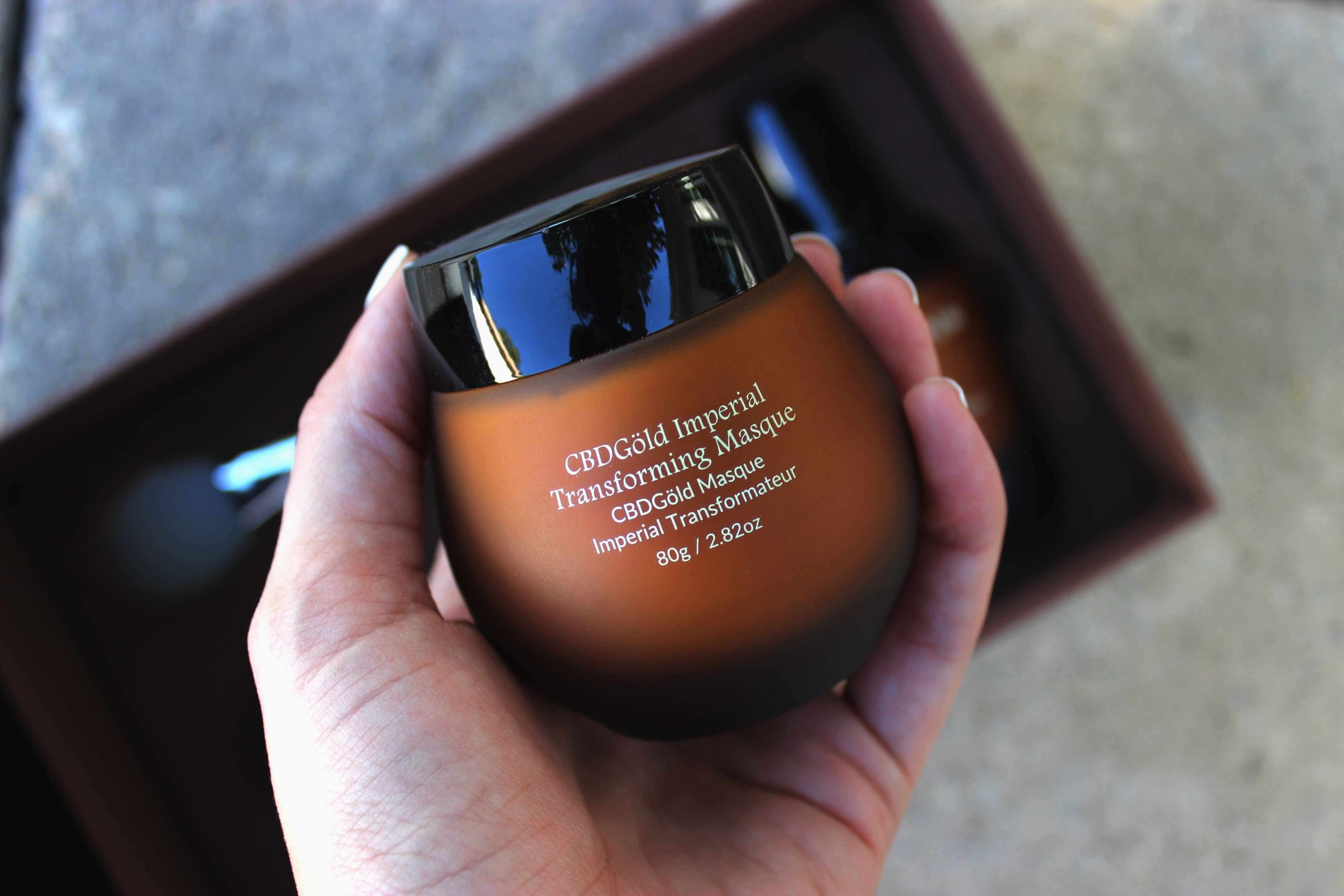 Start with the CBDGöld Imperial Transforming Masque, a ten-minute clay mask that can be used during or after a dip. A great choice for those with oily or acne-prone skin, this mask is infused with Kaolin. This clay can absorb excess sebum without stripping the skin of its natural oils. This mask is also formulated with a blend of beneficial natural ingredients like:
To use, use the enclosed spatula to slather on a thin layer of the CBDGöld Imperial Transforming Masque onto your skin before or after your bath. Leave the product on for ten minutes before rinsing it off with warm water.
The CBDGöld Vitamin C Antioxidant Élixir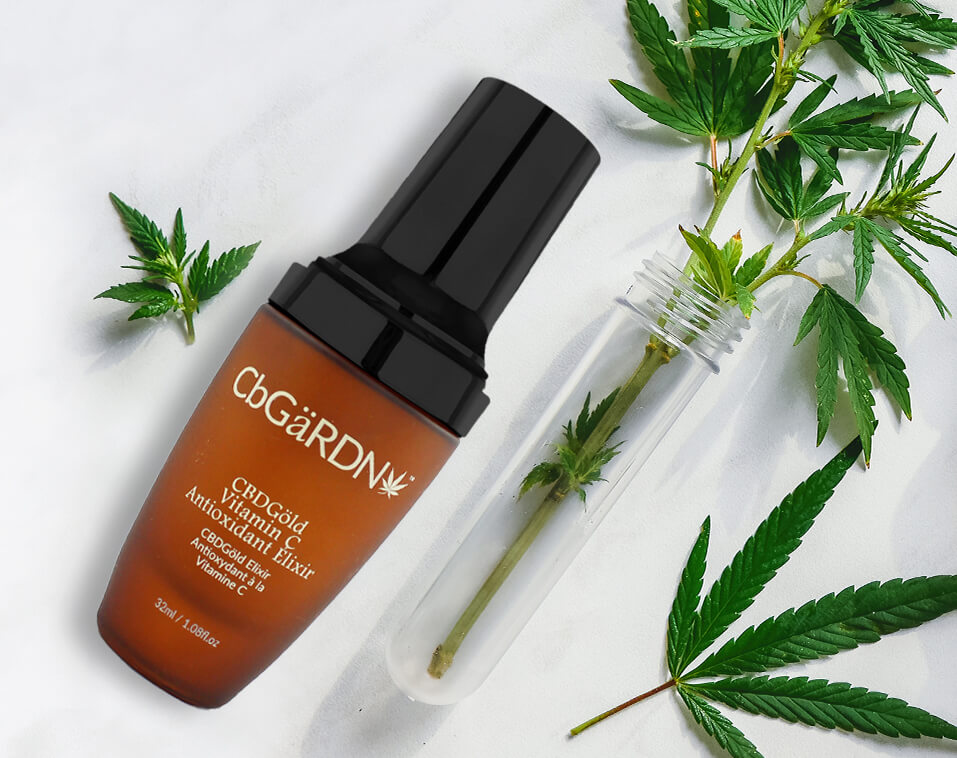 Next, treat your skin to a dose of CBGäRDN's CBDGöld Vitamin C Antioxidant Élixir. Formulated with Vitamin C, this serum helps unveil a healthier-looking and more radiant complexion. Vitamin C, with its various skin-loving properties, is another staple found across many CBGäRDN formulations.
Besides Vitamin C, this product is also filled to the brim with ingredients like Olive Fruit Oil, Avocado Oil, Cannabis Sativa Seed Extract, and Jojoba Seed Oil — all of which are powerful compounds that keep the skin feeling safe.
To use, apply one or two pumps of the skin elixir onto your face and neck. Pat the product in gently until fully absorbed.
The CBDGöld Velvet Silk Crème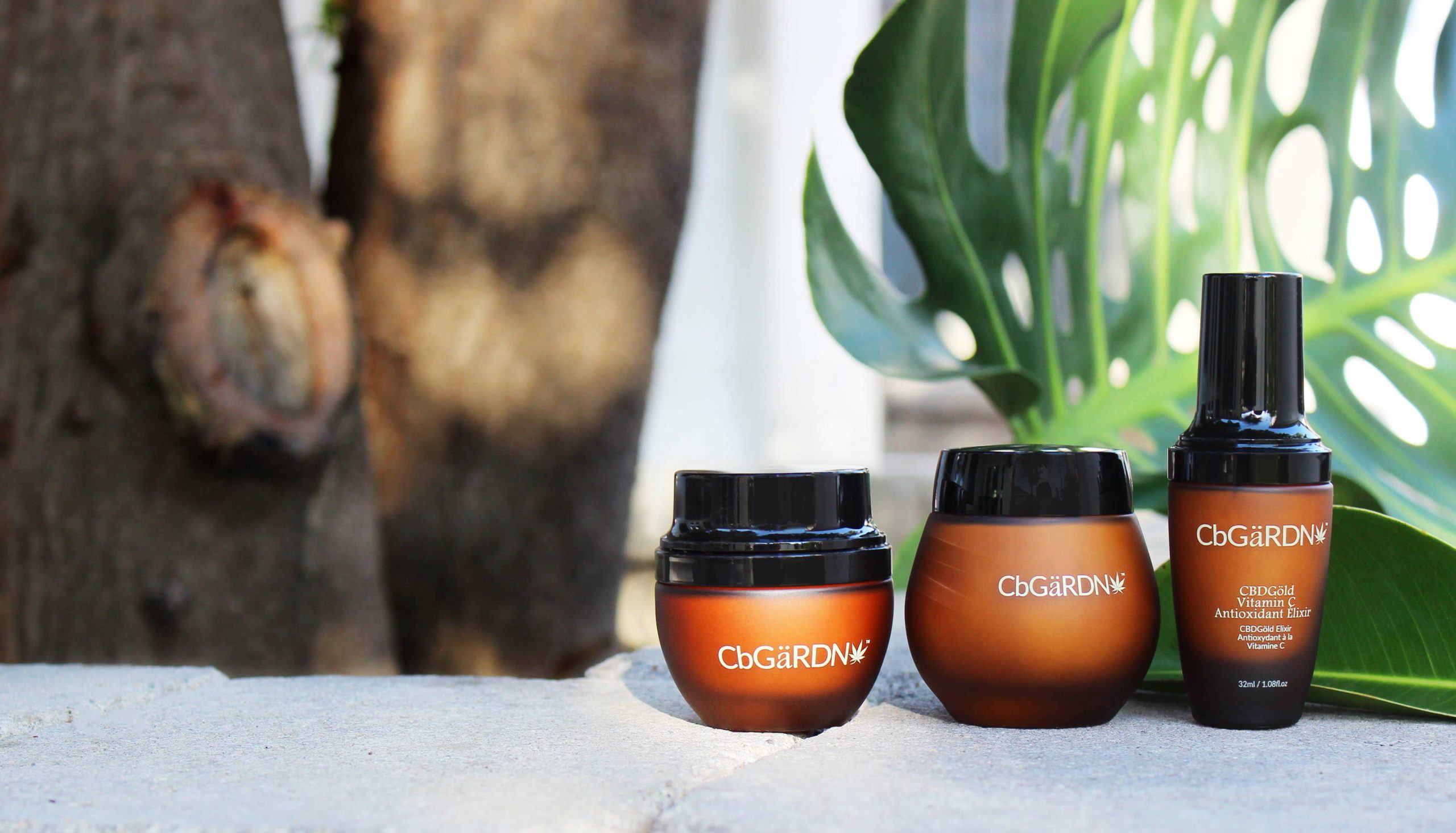 Lastly, close off your post-bath skincare routine with the CBDGöld Velvet Silk Crème. Like the Vitamin C Antioxidant Élixir, this product is formulated with multiple antioxidant-rich ingredients. Some of the standouts include Green Tea Extract and Rosemary Leaf Extract.
Primarily a moisturizer, the CBDGöld Velvet Silk Crème also ensures that the skin feels plump and well-moisturized. It does this with a little help from Collagen Amino Acids. Naturally found in the skin, amino acids make up proteins like collagen that help give the appearance suppleness, ensuring that it maintains a youthful and healthy look.
To lock in your skin's moisture after a long bath, simply apply a small amount of the CBDGöld Velvet Silk Crème on to the skin. Massage it into the skin in circular motions until the product is completely absorbed.
Ready to Give Bathscaping a Try?
From bathscaping to a hand-picked post-bath skincare regimen, it's high time to turn bathtime into a luxurious and relaxing experience. Discover more ways to indulge yourself and your skin with CBGäRDN.