Published: November 30, 2021
What's the first thing that comes to mind when you hear the words Cannabis and Hemp? Whatever you associate these words with are most likely shaped by where in the world you're from. While some countries still consider Cannabis and Hemp to be controversial, these natural ingredients have been scientifically proven to work wonders in the realm of beauty.
Here, we dive deep into Cannabis and Hemp-infused formulations, breaking down their benefits and what they contribute to skincare lines like CBGärdN's skin-loving CBDGöld Collection.
Cannabis and Hemp in Skincare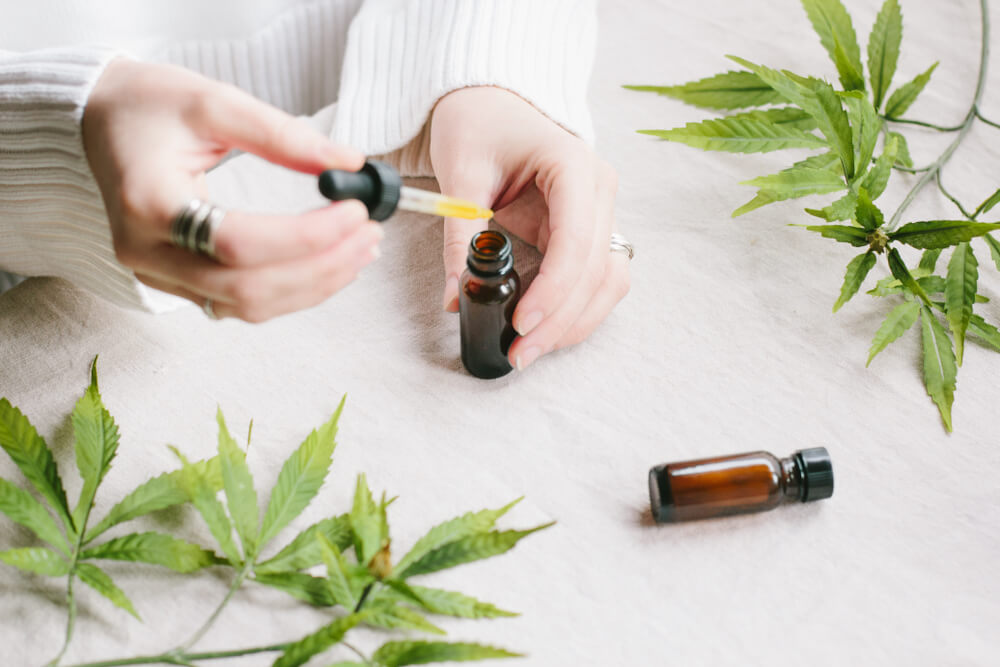 With hundreds of organic skincare ingredients out on the market, you may find yourself wondering why scientists and skincare formulators would bother adding Cannabis and Hemp to such an extensive list. The reasons lie in the benefits that these using these ingredients can bring.
The Skincare Benefits of Cannabis and Hemp
What do Cannabis and Hemp bring to the realm of beauty?
Cannabis and Hemp typically take the form of oils in skincare. The two most common oils include CBD Oil and Hempseed Oil. The benefits of CBD Oil include:
Calming and soothing the feel of the skin
Reducing the appearance of fine lines and wrinkles
Moisturizing the skin
CBD vs Hemp
CBD Oil contains THC, which is short for Tetrahydrocannabinol. This is the psychoactive component of Cannabis that gives it its controversial reputation. However, it's important to note that the THC levels in CBD Oil are extremely low and do not pose any mind-altering effects when applied topically. 
Hemp Seed Oil, which is extracted from hemp seeds via cold-pressing, echoes the potent benefits of CBD Oil. Unlike CBD Oil, Hemp Seed Oil does not contain any THC. 
Despite being oils, both CBD and Hemp seeds are non-comedogenic. This means that they do not trigger breakouts. This makes these oils a wonderful choice for those with oily or acne-prone skin.
The CBDGöld Collection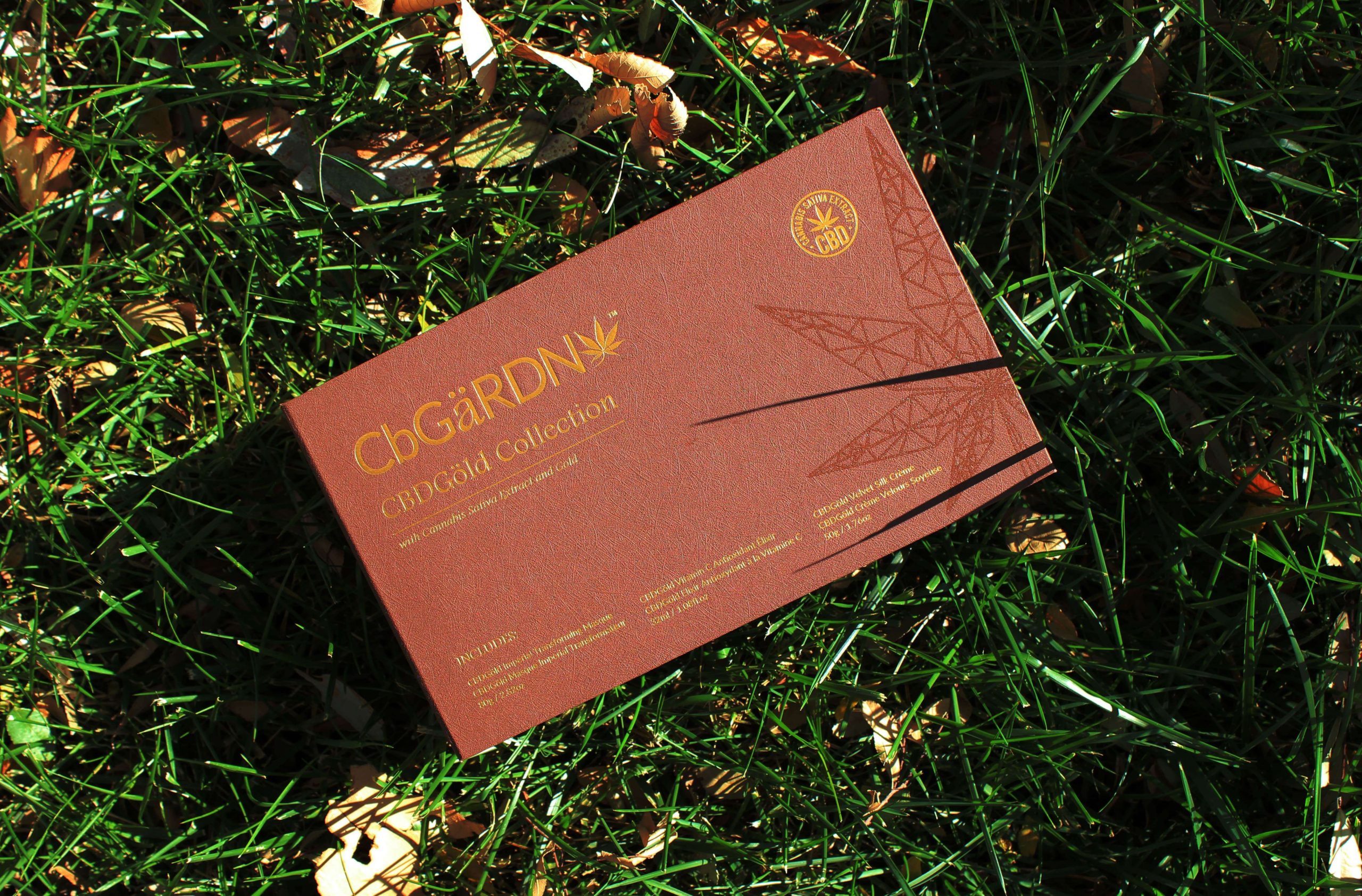 Not quite sure where to start your journey with CBD-infused skincare? Let us point you in the right direction:
While all CBGärdN formulations pose potent benefits that can help enrich your regimen, we recommend taking your first steps with the CBDGöld Collection Kit. A convenient three-piece set, the CBDGöld Collection Kit can seamlessly fit into your current routine. Otherwise, if you're looking to revamp your skincare regimen completely, you can go back to basics with these three products. 
Here, we give you a behind-the-scenes look at each product in the CBDGöld Collection:
CBDGöld Imperial Transforming Masque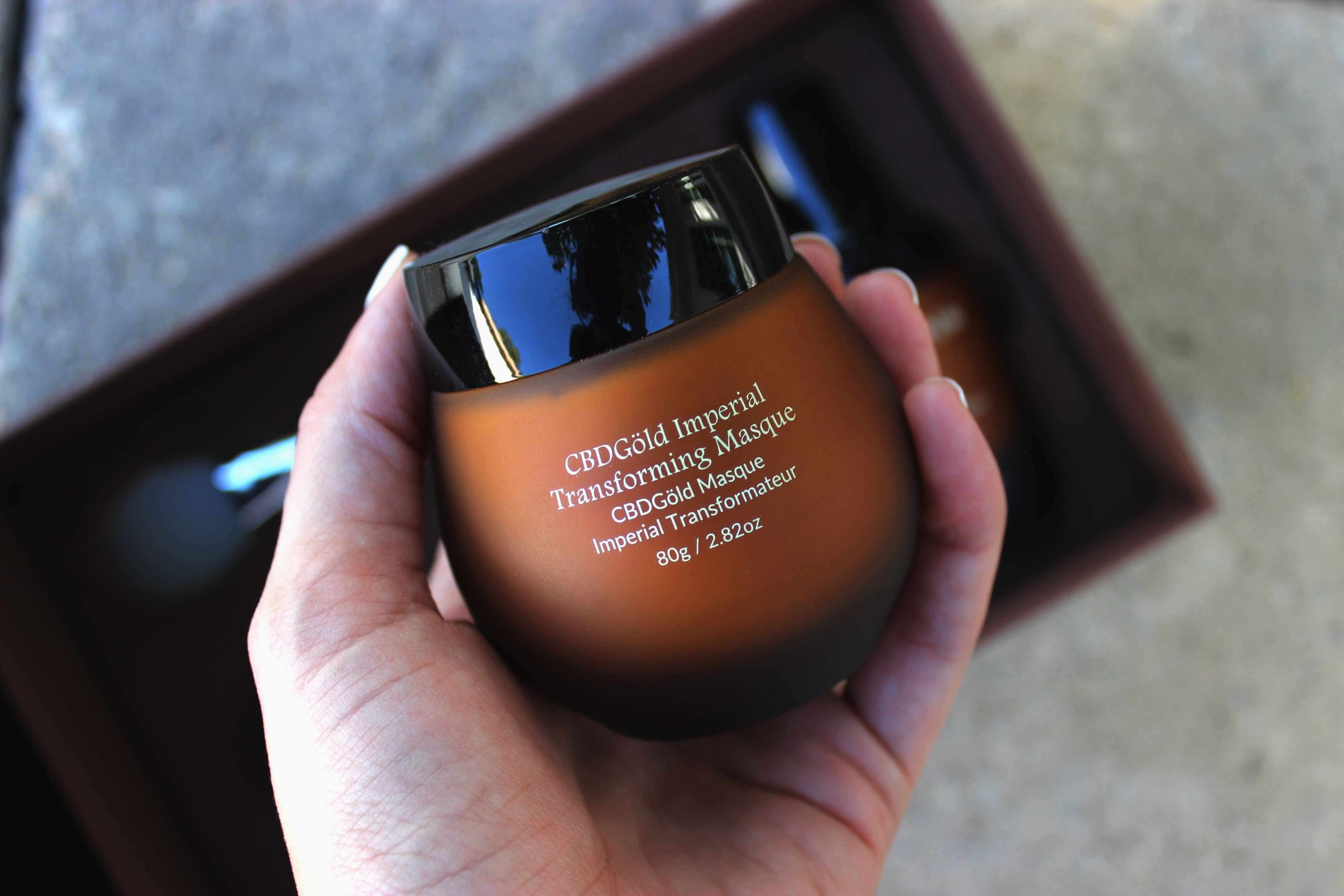 Masks can make for an interesting step in a skincare routine. Depending on the skin issue you're trying to improve or which ingredients are present in your mask, they can be geared towards moisture, hydration, and reducing wrinkle visibility, among others. The Imperial Transforming Masque from the CBDGöld Collection just happens to tick all those boxes. 
The CBDGöld Imperial Transforming Masque is a unique ten-minute pick-me-up for your skin. It leaves the feeling skin soft, smooth, and radiant after each usage. Living up to its name, this mask changes its appearance right before your eyes: from a pristine white, the product turns into a lush shade of gold once it's ready to be washed off.
Alcohol-Free
This formula is alcohol-free, which can be a rarity in cleansers and masks. While the CBDGöld Imperial Transforming Masque includes Cetyl Alcohol in its formula, Cetyl Alcohol is not a simple alcohol and therefore, not harmful nor sensitizing. Fatty alcohols like Cetyl Alcohol can usually be found in moisturizers and creams because they help stabilize formulations, create a thicker texture, and protect the skin against moisture loss.
Organic Honey
One of the key ingredients in this product is Organic Honey. We all know honey is great on toast and with tea, but we argue that it's even better when used in skincare. For one, honey has been used for beautification for centuries. Honey also offers up a diverse range of benefits, which include moisturizing and soothing the feel of the skin.
Seaweed Extract
The CBDGöld Imperial Transforming Masque also contains Laminaria Japonica, otherwise known as Seaweed Extract. While this might seem like an uncanny ingredient to slather onto your skin, Seaweed Extract has been gaining popularity for its natural skin-loving properties:
Ability to reduce the appearance of wrinkles.

 

Brightens the look of the skin.

 

Reduces the feeling of sensitivity.

 
If your skin is on the oilier side, you may be worried about the abundance of moisturizers in the CBDGöld Imperial Transforming Masque. Thankfully, Kaolin and Bentonite balance out the equation. Ingredients commonly found in clay masks, Kaolin and Bentonite help reduce excess sebum without overly stripping the skin.
How to Use
To use the Imperial Transforming Masque from the CBDGöld Collection, simply apply a thin layer of product onto cleansed, dry skin. Massage it into your skin gently until the formula has turned into a rich gold color. Leave the mask on for ten minutes then rinse off with warm water.
CBDGöld Vitamin C Antioxidant Élixir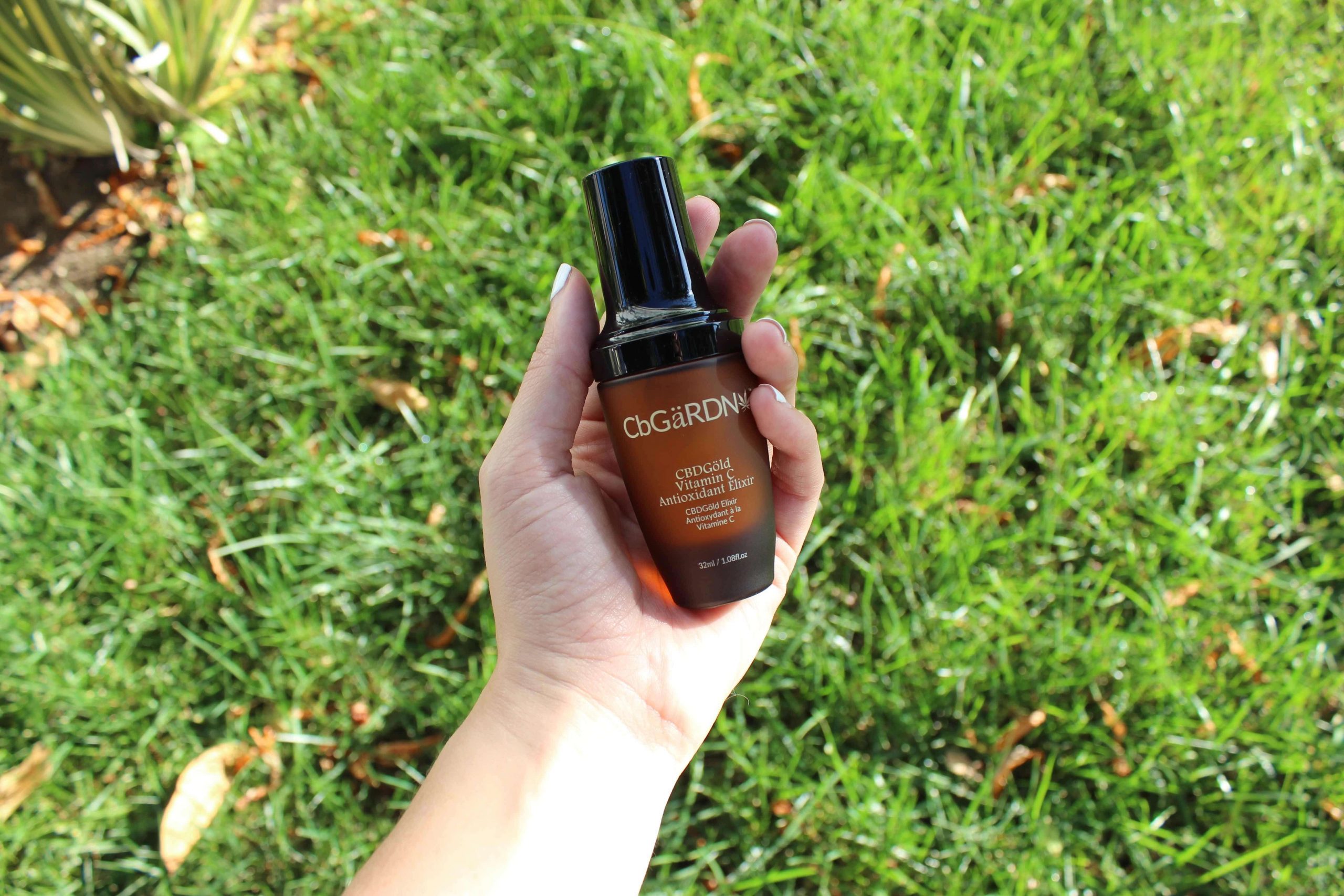 The perfect follow-up to the Imperial Transforming Masque, the CBDGöld Vitamin C Antioxidant Élixir refreshes and brightens the look of the skin with a blend of Vitamins A, C, and E. Each of these vitamins delivers its skin-improving benefits. We discuss each below:
Retinol
You've likely heard about Retinol. One of the beauty industry's favorite ingredients, Retinol is a form of Vitamin A that is known to smooth and tighten the look of the skin. However, it also has a reputation for being rather abrasive, often causing a period of heightened sensitivity and purging upon its first introduction into a regimen. 
Retinyl Palmitate, a gentler form of Vitamin A, gives those with sensitive skin a chance to experience the results of Retinol — sans the irritation. You'll find Vitamin A in the form of Retinyl Palmitate in CBGärdN's CBDGöld Vitamin C Antioxidant Élixir. 
Vitamin C
Another fun fact about Retinyl Palmitate: it works wonderfully with Vitamin C, which also happens to be present in the Vitamin C Antioxidant Élixir from the CBDGöld Collection. Vitamin C has long been a cult favorite in the world of skincare, and with good reason. It's extremely popular because of how it brightens and tightens the appearance.
How to Use
These ingredients come together to reduce the visibility of redness, calm the feeling of inflammation, and brighten the look of the skin in the Vitamin C Antioxidant Élixir from the CBDGöld Collection. To use, simply dispense a small amount of product onto your fingertips. Gently massage it into your skin in circular motions and follow up with the next step in the CBDGöld Collection Kit: the Velvet Silk Crème.
CBDGöld Velvet Silk Crème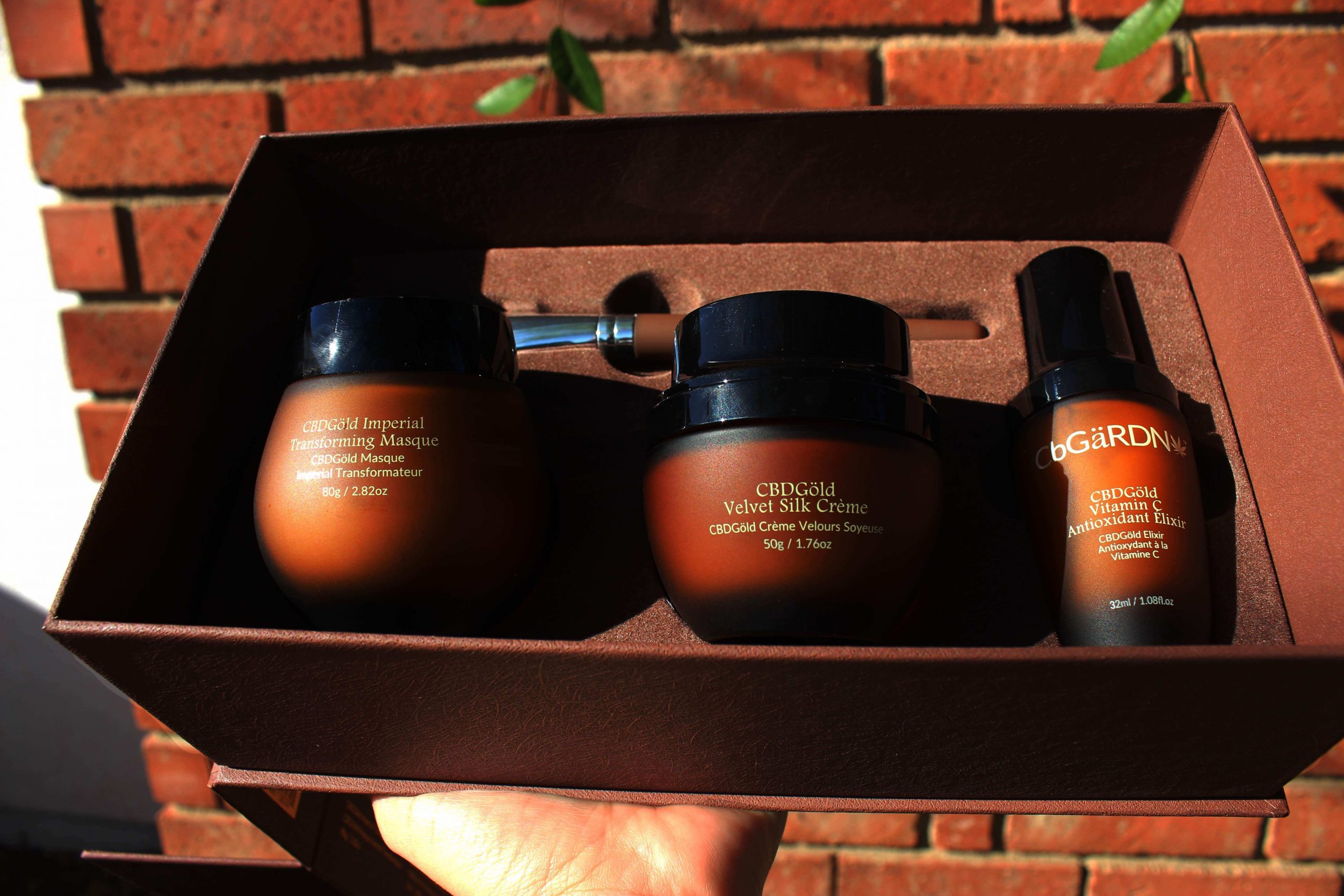 Rounding up the CBDGöld Collection Kit is the CBDGöld Velvet Silk Crème. The perfect way to end your skincare routine on a good note, this moisturizer is lightweight yet rich. Even better, it's suitable for all skin types.
It's packed with:
Grape stem cells

Chamomile Flower Extract

Green Tea Extract

Rosemary Leaf Extract

Caffeine
How to Use
With deep moisturizing properties, the CBDGöld Velvet Silk Crème is an express ticket to a smoother, softer, and healthier-looking complexion. To use, use a clean finger or spatula to pick up a coin-sized amount of cream. Massage it into your skin gently until fully absorbed. 
CBGärdN, A CBD and Hemp Skincare Brand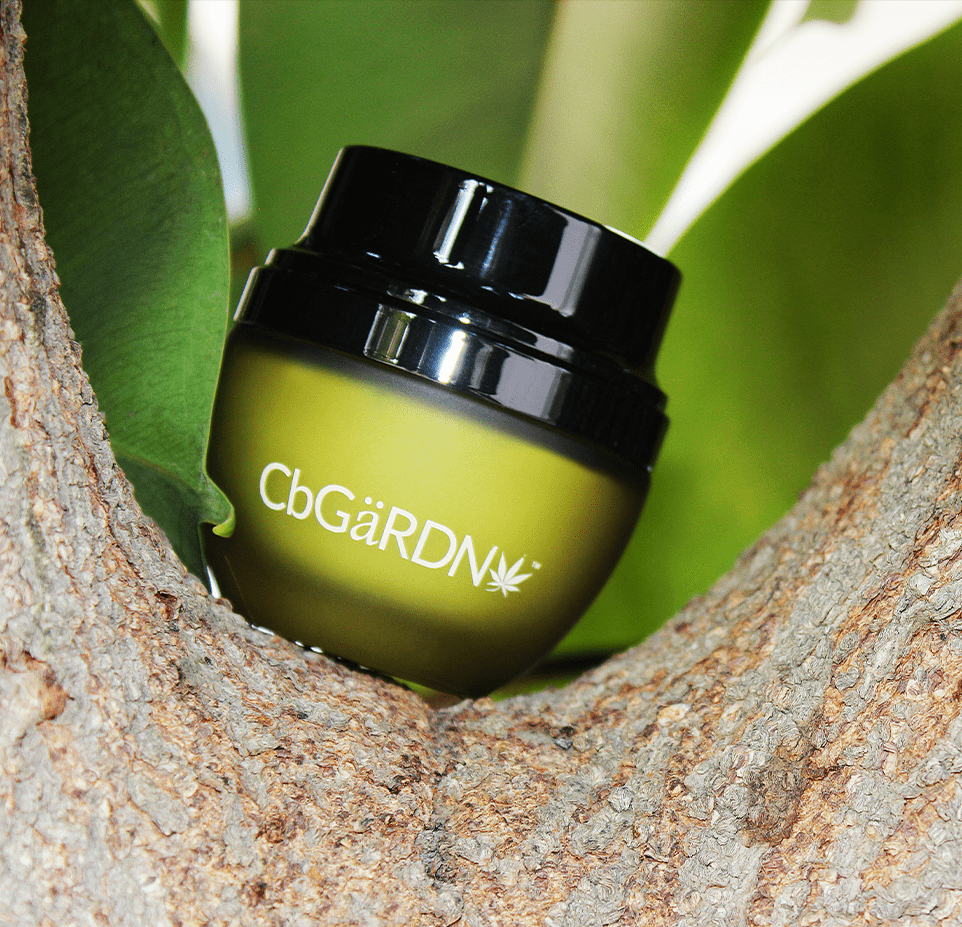 We at CBGärdN understand that skincare is not a one-size-fits-all affair. Your skin is an organ, after all: it sees its fair share of changes with the weather, through the seasons, and over time. Therefore, it's only right that your skincare routine evolves with your skin's different phases.
Every jar and bottle of our CBD-infused skin care solutions are the product of years of research. While CBD and Hemp are signature elements present across every CBGärdN product, our team of expert formulators boost their effects by combining them with other tried and tested ingredients. 
While product formulation is the star of the show here at CBGärdN, we take pride in making self-care and skincare even more safe, luxurious, and sustainable by:
Ensuring that all of our formulations are tested and approved in the United States

Undergoing dermatologist product testing and obtaining due approval

Refusing to participate in animal testing

Packaging our products in secure, opaque containers to help limit their exposure to air and light, which may threaten the stability and shelf life of our formulations
That wraps up our behind-the-scenes dive into CBGärdN's CBDGöld Collection. Now that you fully understand the various skin-loving benefits of Cannabis and Hemp, are you ready to make the switch to CBD-infused skincare? If so, you know where to begin.
Shop the CBDGöld Collection Kit online via CBGärdN's official website.